Sarah Mack who is well-known as the Scottish television presenter has established herself as a pioneer in the world of journalism. With the extraordinary talent of presenting on television, she has created a favorable image of herself in the media.
The presenter and journalist Sarah, who is a happily married woman, took the media attention after she left the BBC Scotland's rural affairs programme, Landward. Let's find out the real reason for leaving the show.
Sarah's Marital Life On the Barra Farm
Sarah has been married to her husband David Stephen, who is a farmer. She met her husband while working at STV News. They lived in a little cottage on Barra Farm, and David was a tenant on the Barra Farm. They owned a Barra Castle which accommodates farm shop, luxury holiday lodges and a special barn venue for weddings and parties.
With David, Sarah shares four children together. However, she had never revealed the news of being pregnant with the media.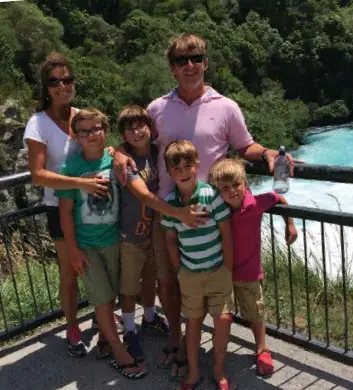 Sarah Mack with her family picture posted on 1 November 2017 (Photo: pressreader.com)
According to Sarah, she has an active family because their children do not have tablets or devices, but her husband sends them to make dens in the woods or walk up hills.
Sarah and her family spend their time as a family on Newburgh beach which tends to be fairly quiet and a special place for them.
As of now, Sarah enjoys her blissful married life with her husband and four children in Barra in Aberdeenshire.
Sarah Mack's Bio and Her Family Life in Glasgow
Sarah, whose age and date of birth are still a mystery, grew up in Glasgow. Sarah's grandfather, who was from Aberdeenshire, was a farmer and his father is a doctor.
Sarah, who stands at the tall height, began her career at the Edinburgh Live cable TV station as a runner and production journalist. After working there for two months, she made her first on-screen appearance as a weather presenter.
After that, she joined STV North in 1998 as a reporter and presenter for North Tonight. During the time, she presented the social affairs series Grampian Midweek, magazine show Grampian Weekend, and the travel show travel show Scottish Passport (alongside Bryan Burnett).
However, Sarah left Grampian Television in 2003 to become a full-time mother. After that, she returned to television as a reporter and presenter for BBC Scotland's in 2007, rural affairs programme, Landward but she left the job after discovering she was paid less than her male colleagues.
She began presenting items for The One Show in the year 2012.
Sarah has amassed a huge amount of income from her work as a reporter and presenter on BBC and her net worth is estimated to be more than a million dollars. However, Sarah has not revealed her exact salary to the media.
Sarah Mack Left BBC Show: Male Presenters Were Paid More
Former BBC Scotland presenter Sarah Mack left her BBC show after learning she was paid less than her male colleagues.
In an interview with Sunday Post on 29 April 2018, Sarah told one of the reasons for her leaving from BBC show was the massive inequality paid between male and female employees.
The presenter, who still works with STV, said that she worked there for many years and whenever she tried to renegotiate her contract, she was always told, 'That's the limit, that's the pot.'
Her decision to leave the rural affairs programme, Landward was supported by her husband, David. She said, her husband was very supportive, and he just said, stand-up for what she thinks is right.
Because of that incident, after the BBC was compelled to reveal the information under the terms of its new Royal Charter, the pay of personalities earning more than £150,000 had been made public
The BBC's gender pay gap row erupted when it revealed two-thirds of its stars earning more than £150,000 were male. BBC director general Tony Hall admitted that there was a lot more to do on the issue.
The company's China editor, Carrie Gracie, resigned her position in protest after learning men in similar roles were earning much more.
A BBC Scotland spokesperson said that they were sorry when Sarah decided to leave the programme as she was a highly regarded member of the presenting team. He even said during the contract negotiations they had offered an increase, but that was rejected by her, and they were unable to meet Sarah's subsequent demand for a further rise.
Sarah later said that she is still in touch with her former colleagues and has no regret about leaving the show.