As a family member of the widely celebrated person, one is ultimately bound to become a concern of the public, whether they choose it or not. And, when such case its someone the celebrity is romantically involved with, its a different matter altogether. The uncalled public and media attention is never leaving their side.
Likewise, is the scenario of Samantha Busch, who besides being a fitness-fanatic, earns a Master's degree in Industrial/Organizational Psychology.
It was a summer of 2008 when Samantha met the man of her dreams and now0husband, Kyle Busch- the American stock car racing driver, who established the Kyle Busch Motorsports in 2009.
The very encounter changed her life once and for all, in the best possible way, of course!
How Samantha Busch's Husband Proposed Her?
Samantha, age 33, standing to her height-weight proportioned silhouette, is lucky that her hubby is admittedly a one big romantic. The 'Samantha and Kyle' love story began like any other love story.
After the 4-months old one to one on the phone, they had their very first date. Samantha was in college during that point, but somehow the pair managed to continue their long-distance romance.
Keep Reading: Ross Chastain Wife, Family, Height, Net Worth
Eventually, after her graduation, Kyle popped the question in February 2010 and Samantha, of course, gave him a big "Yes!". For she is head-over-heels in love with her man, and she never stops admitting that in her social media pages and interviews-
Kyle has always been my rock. So many people only know the aggressive and strong-willed side of him that he shows when he is on the track. But the Kyle that I know is so different from that. Every time I feel like I'm falling apart, he picks me back up again.
Kyle, who boasts a mountainous net worth of $50 million had all planned out. He literally went down on his one knee before his lady love who was not dressed-up in some designer attire; instead, she was utterly clueless and dressed in her work-out clothes.
What Kyle really wanted was for them was that they spend their first night in their brand new motor home as an engaged couple. And, so it did happen!
Struggling For Children
Then, with the new year followed a blissful marriage. A few years of going out as fiances and like some fairy tales, the partners got married over a Chicago-wedding on New Year's Eve 2010.
However, despite what they felt for one another, the days to come were not all smooth. Several unprepared-for bumps went down the road, especially in the process of extending their family.
Discover: Corey Bohan Wiki, Net Worth, Affair, Married Life With Audrina Patridge
The Busches have significantly been open about their attempts to having children. They even documented the whole In Vitro Fertilization process they went through as per the efforts to have a second child.
Precisely, they were expecting a girl child to accompany their adorable baby boy. But then fate had something else planned out for them as the anticipating parents went through a completely unexpected miscarriage.
We had wanted to be transparent in our IVF journey, but it truly never crossed our mind that it wouldn't work the second time around. Usually, the second time is so much easier. Having a miscarriage never even crossed our minds.
After years of trying to get pregnant naturally with her first child, Brexton Busch, even then the couple went through the vitro fertilization treatments, and it had been nothing but a success.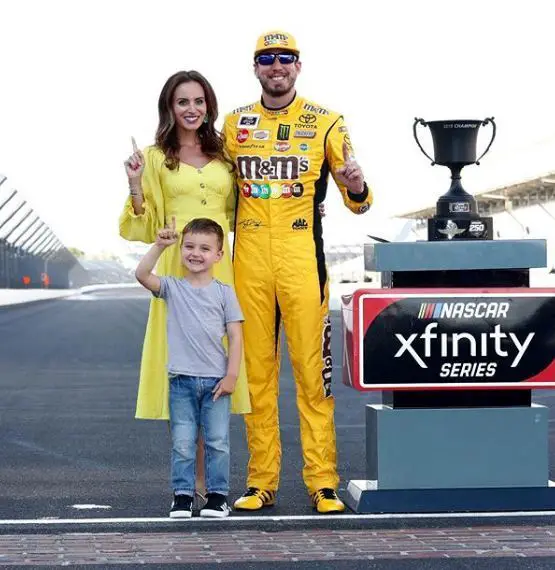 Samantha Busch and her husband, Kyle Busch as they celebrate the team's recent win at Indianapolis Motor Speedway on 8 September 2019 (Photo: Samantha Busch's Instagram)
As of 2019, Samantha is almost everywhere, accepting life as it presents her, all the while parenting her young one.
She discusses almost all aspects of her life, especially the infertility challenges and the heartbreaks followed by the miscarriage, she went through with the NASCAR's most-polarizing star-husband.
Soley in an attempt to help couples who are struggling to have children. The husband-wife duo's Bundle of Joy fund helps the struggling-couples by covering the costs of fertility treatments.