Robin Rene Roberts, a prominent news personality who is most known for hosting ABC's Good Morning America, has reached the heights of her career. But despite achieving milestones in her vocation, the journalist has been on a roller coaster ride when it comes to her health.
The cancer fighter has defeated breast cancer and survived a rare health condition, myelodysplastic syndrome. 
Robin Roberts' Health Issues
Roberts did not have a smooth sailing life. Seeing her on tv with upbeat energy and enthusiasm, it could be hard to believe she has gone through two life-threatening health issues, breast cancer, and myelodysplastic syndrome.
In 2007, she was faced with a harsh reality when she was diagnosed with breast cancer, and in 2012, another health condition, myelodysplastic syndrome, took its toll on her body. 
But despite the difficult situation, she always tried to look for positivity. Although she was going through cancer treatment with series of procedures such as surgery, chemotherapy, and radiation therapy, her hope remained unshaken. 
In an interview discussing her cancer journey, she said, 
My mother always said, 'Make your mess your message.' And when I was diagnosed with [breast] cancer, I was like, 'What's the message?
But her battle did not end there. She had to deal with another condition, MDS, which required a bone marrow transplant. Luckily her sister, Sally-Ann, volunteered to be her donor, and the transplant went successfully.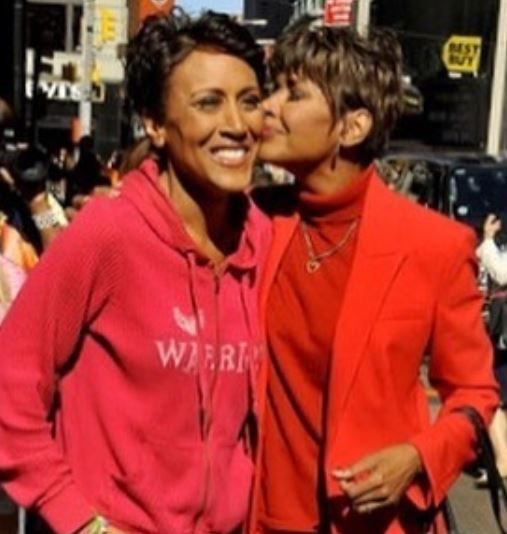 Robin Roberts with her sister Sally-Ann. (Source: Instagram)
Marking the fifth year of her successful transplant, the whole ABC team came together to celebrate her 57th birthday grandly. Expressing her thoughts on her recovery journey, she said, 
It's considered to be a rebirth. And I definitely felt that I was getting another chance at life.
Moreover, having gone through life-changing health conditions, she uses her platform to spread awareness about cancer and MDS. 
Roberts' Supportive Partner
Throughout her battle with deadly health conditions, her partner, Amber, has been by her side for over 15 years. 
To any person, having to deal with such an ordeal on their own can be unimaginably overwhelming. But, Roberts happened to be the lucky one to have had the support of her loved ones, especially her partner. 
Just as transparent Roberts was of her health situation, she publicly came out as gay through her Facebook post in 2012. 
In the post, she shared her heartfelt appreciation to all those who were by her side, helping her fight the battle with cancer, and revealed about her long-time girlfriend, Amber. She wrote, 
I am grateful to God, my doctors and nurses for my restored good health. I am grateful for my sister, Sally-Ann, for being my donor and giving me the gift of life. I am grateful for my entire family, my long time girlfriend, Amber, and friends as we prepare to celebrate a glorious new year together.
Currently, Roberts and Amber, the power couple, reside together with their adorable pet dog named Lil Man LuKas. And, the journalist doesn't miss a chance to upload her time spent with her partner and pet on her social handle.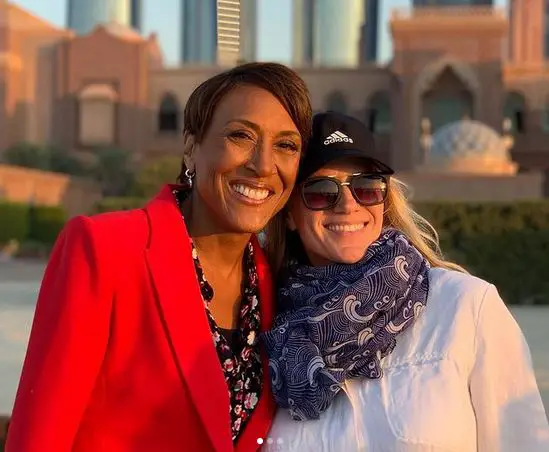 Robin Roberts with her partner, Amber. (Source: Instagram)
Career and Net Worth
Serving the broadcasting media for over three decades, Roberts has established her name amongst the honored journalists. The 2012 Peabody Award winner was even inducted into the Women's Basketball Hall of Fame.
The ABC host began her career in 1983 as a sports anchor in Mississippi. In 1990, she joined ESPN as a sportscaster, where she served for fifteen years. After leaving ESPN, she then joined ABC's Good Morning America.  
Given her brilliance in her field, she is entitled to a hefty net worth of 45 million dollars, as per a source. And, reportedly, she has signed a contract of 18 million dollars as her annual salary from hosting Good Morning America.