Richard Osman is a Television producer, presenter, and comedian. Apart from his career as a broadcaster and producer, Richard is also equally talented in writing. He was the script editor for Total Wipeout. He was also the creator and writer of the sitcom Boyz Unlimited, Bromwell High of Channel 4.
He is very tall and that is probably the first thing people notice when they look at him. He stands at a tall height of 6 feet 7 inches (2 meters).
Richard Osman Married, Wife
Though Richard turned out to be a lucky fellow in his career, his married life is incomplete just like his family without a father.
Well, he was married to his wife in the late 1990s and had a divorce in 2007. He shares two kids: a son named Sonny and a daughter named Ruby. Richard currently resides with his two teenage children in west London. He considers his children as his best friends.
Don't Miss: Todd Piro Age, Wife, Married, Bio, Family, Salary, Net Worth
But apart from his first married heartbreak, Richard seemed to be positive towards a new lady in his life. Well, according to dailymail.co on 8 July 2015, the tall geek celebrity dated he radio DJ Emily Dean since February 2015. 
However, Richard Osman's love life with Emily Dean did not last very long, and the couple broke up just after a year of togetherness.
The nation's weirdest crush, Richard Osman did not lose faith on love even after his split with Emily.
He has now found a new love interest and she is none other than Jazz singer Sumudu Jayatilaka. Richard and Sumudu first made a public appearance at James Blunt's pub in February 2019 but had already gone on a trip to Austria to celebrate Valentine's day.
Many people might be heartbroken to hear this, but the couple seems to be very much smitten by each other. Even though Sumudu is only 5 feet tall, which makes the height difference of about 19 inches, Sumudu revealed that they were very happy together. 
Richard, however, is very private and has not talked about the relationship in public.
Richard Osman Short Bio
He was born on 28 November 1970 in Billericay, England to mother Brenda and father David Osman. His brother is Mat Osman, a bassist for the rock band Suede that separated in 2003. 
Richard's childhood was covered with blues as his father, David walked away from the family. However, his mother, who happened to be a teacher, raised Richard and Mat as a single mom.
You May Like: Carrie Gracie Husband, Cancer, Family, Salary, Age
Reciprocating the affection of his mom, Richard made her proud by graduating from Trinity College, Cambridge in 1992. He studied at Cambridge University, one of the most prestigious universities in the world, and has a degree in Politics and Sociology.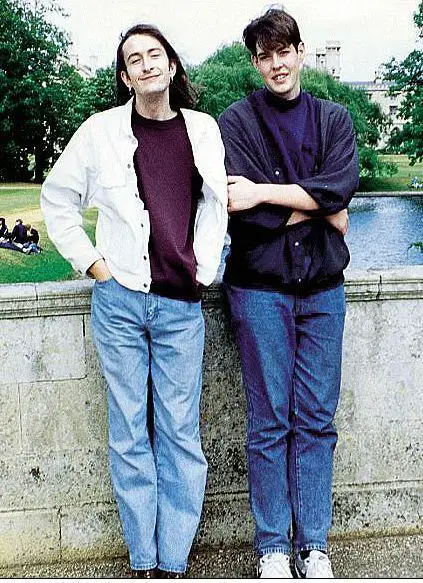 Richar Osman poses with his brother Mat Osman in Cambridge in 1989 (Photo: dailymail.co.uk)
While talking to mirror.co on 25 March 2016, Richard gushed about the absence of a father in his life. He disclosed that he missed a role model in his childhood but also stated that when he met his father after twenty years, he did not feel any connection though he was thankful to find him.
Richard Osman's Career With Net Worth
Richard had a keen interest in media and television from an early age. The 47-year-old producer started his career as a broadcaster in a music show Turn It Up on BBC Radio Sussex during his college days.
In addition to this, Michelle also got a chance to co-present the show quiz show Pointless on BBC One with his co-host Alexander Armstrong, whom he met in his college life initially. The television pair has been serving the show since 2009.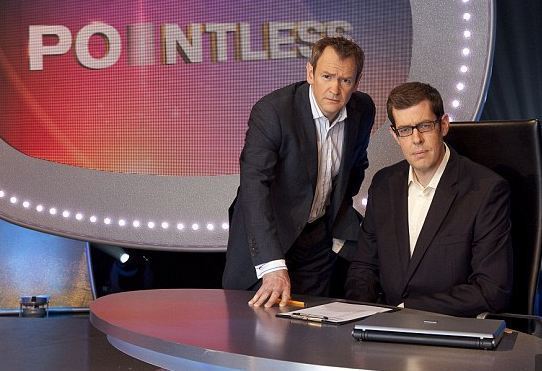 Richard Osman shares the set of Pointless with his long-term friend and co-host Alexander Armstrong (Photo: dailymail.co.uk)
With his experience in BBC, Richard also got a chance to serve shows like Deal or No Deal, Channel 4 comedy panel game 8 Out Of 10 Cats.
From Married Divorce: Amin Elhassan Married, Wife, Family, Salary, Net Worth
Moreover, he was also the producer of the ITV game show 24 Hour, that lasted for a short time. Richard has been presenting a show called Two Tribes since 2014. Also, he is a team captain of the BBC Two comedy show Insert Name Here since 2016.
With his splendid career in journalism on BBC as Sally Nugent and remarkable writing skills, Richard has been able to amass a considerable amount of net worth. His hourly salary as a TV presenter is estimated to be $59K.