Amin Elhassan is a Sudanese sports commentator in the US who works for satellite sports television channel ESPN as an on-air commentator. Currently, he also hosts some shows that include His and Hers', SportsCenter, Mike & Mike, The Jump on the ESPN channel.
Apart from his professional career, Amin Elhassan's personal life is quite private. The only things that catch the attention of his fans and the media are his controversial statements and blunt comments.
Amin Elhassan's Marital Status
Amin has kept his personal life quite private. However, through his tweet, it came to light that he is a married man and a father of a kid.
Back on 8 February 2018, he took a twitter, and while replying one the tweets, he said he was 31 when he had his first kid, and he was not ready too.
Besides that, nothing much is known about his wife and children. The only thing that catches the attention of the media is his controversial statements and blunt comments. Amin Elhassan, with his trolling comments, has always created controversial affairs several times.
Back in August 2016, Amin was being criticized after he made fun of the reaction video of WWE wrestler Kevin Owens' 8-year-old son posted by his wife Karina Steen after he won the WWE Universal Championship on RAW.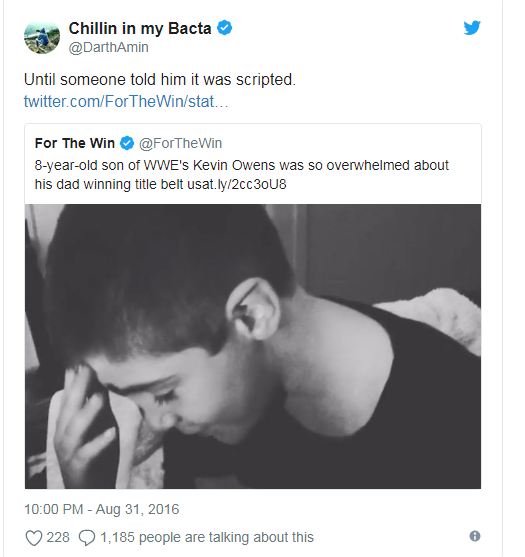 (Photo: Amin Elhassan's Twitter)
He received backlash for his comment "Until someone told him it was scripted" on the video showing the boy crying in happiness watching his father win. After that, he spent his day replying to angry tweets.
Little did he realize that he was on air and was on one of the most watched and tuned in sports channel in America when he made a crude joke a couple of years back about taking out an adult movie star named, Mia Khalifa for dinner.
But later, he apologized to her by saying he made a joke which was inappropriate and was wrong. He apologized to his family for mixing them up in all of this.
Amin Elhassan's Short Wiki, Plus Career
Amin Elhassan is a Sudan born American journalist, who landed on this earth on 12 April 1979. Currently, he is of 39 years of age. His parents moved to New York when he was just a kid, and returned to Sudan from the age of 8t but again returned to New York at age 14 to attend high school.
He studied engineering at Georgia Tech but somehow entered journalism. Amin has also done MBA from Arizona State as per wiki.
After completing graduation, Amin began his career in marketing with the Atlanta Hawks NBA team. He used his job to make useful connections in the sports industry further.
He had previously been working as a basketball operation intern for clubs such as New York Knicks and Phoenix Suns, and even went on to become the basketball operations assistant for Phoenix Suns.
Mostly working for the team Phoenix Suns, Amin became a director in the basketball operations department, and finally was given the post of a college scout for the same team. That is until ESPN roped him into their organization to work for them.
Working for such shows like ESPN, NBA, SportsCenter, his net worth is pretty much hefty in the industry. However, the exact figure of his net worth is not yet disclosed. Talking about the average salary of sports analysts made in 2017 was $17,000 a year, the median starting salary was closer to $31,000 a year, according to a survey conducted by the Radio Television Digital News Association. The top salary for a sports reporter in 2017 was $100,000 a year.