Paul Dellegatto is a Chief Meteorologist at Fox 13 Tampa since 1990. He celebrated the 23rd anniversary at WTVT in 2013.
Paul is also well known for working as a chief meteorologist at WXII-TV in Winston-Salem, NC and as a meteorologist in WGME TV for a year. He is also the first meteorologist in the USA to show the variation of spaghetti models, that illustrate the process of tracking tropical systems.
Paul Dellegatto Education, Age
Paul Dellegatto was born on August 3, 1960, in Natick, Massachusetts. He frequently posts about his late parents, Antonio Lawrence Dellegatto and Rita Nicoletta Dellegatto. His father fought in the World War 2 as well as Korea, and honorably served his country. At the age of 58, Paul still embraces a great amount of respect for both of his parents.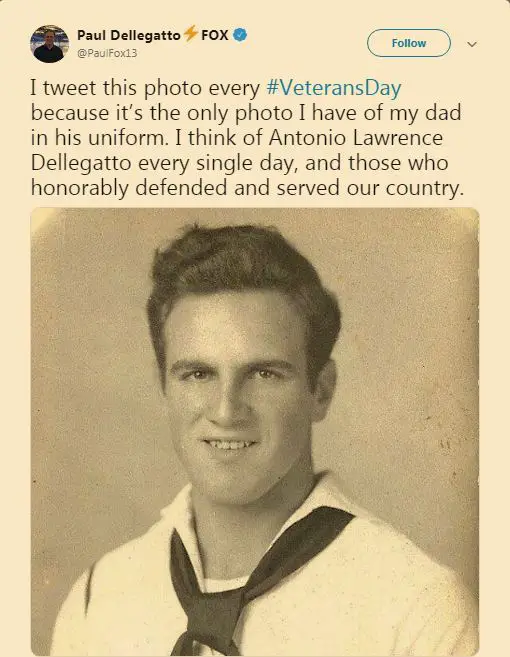 Paul Dellegatto posts a picture of his late father on 11 November 2018 (Photo: Paul Dellegatto's Twitter)
Maintaining his educational background, Paul received a Bachelor's degree in Geography and Marine Affairs / Speech Communications and Meteorology from the University of Rhode Island. He completed his study in Meteorology from Northern Vermont University, Lyndon.
Worth The Read: Kelly Cass Married, Husband, Divorce, Boyfriend and Net Worth
Family - Married & Wife
Paul Dellegatto is happily married to his wife, Mary Ann Dellegatto of Tampa, Florida and the couple together has three daughters, namely Rachel, Caitlyn, and Lindsey Dellegatto.
His wife, Mary Ann, is a real estate professional who works in real estate in the Tampa Bay Area. A native Floridian, she is a realtor at Keller Williams Realty and is entirely indulged in her profession. They live together in Tampa Bay with their daughters and Golden Retriever, Sparky.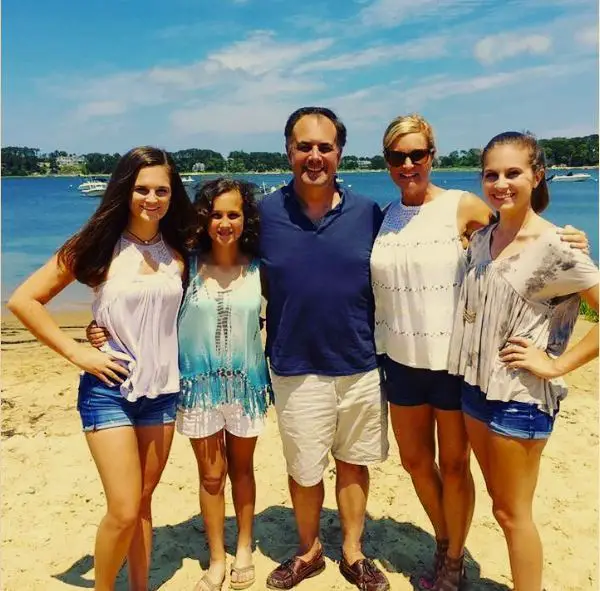 Paul Dellegatto enjoys vacation with his wife and family on 17 June 2018 (Photo: Mary Ann's Instagram)
Paul occasionally posts pictures with his family on social media, which shows that he enjoys a happy married life.
Paul Dellegatto Fox 13 / Salary
Paul Dellegatto is a chief meteorologist and weather forecaster in Fox 13 Tampa, Florida. He has continued the Fox 13's legacy to be the top television weather departments in the country.
However, his career wasn't always flamboyant. Back when he was working in North Carolina, the people couldn't understand his Boston accent. The issue became so severe that he decided to end his career in meteorology ultimately. He then joined a speech school in Dallas and worked on improving his accent, which brought a tremendous leap into his career.
Don't Miss: Maria LaRosa Married, Husband, Divorce, Boyfriend and Net Worth
He took over retired meteorologist, Roy Leep in 1997 to become a Chief Meteorologist. Paul felt very honored to have been trusted with such a significant responsibility. He now appears weekdays on FOX 13 News at 5 p.m., 5:30 p.m., 6:00 p.m., 6:30 p.m., 10:00 p.m., 10:30 p.m. and 11:00 p.m. He also leads the staff of five American Meteorological Society(AMS), certified meteorologists.
Even though the exact salary is not yet disclosed to the public, Paul Dellegatto earns a salary above $76,000, provided that he is at the height of his career.