Beautiful Nicole Karkic is in the fame because of her work as a broadcaster. She is a renowned broadcaster who has worked in many news channels.
She covered sports news while she was in the starting of her career back in 2007-2008. Besides that, she also works closely with the Canadian National Institute for the Blind to help the blind community across Canada. 
Earlier Life To Professional Life
Nicole Karkic, age 32, was born on 23 October in 1985 with birth sign Scorpio. Her bio consists of her birth date, but other details including her nationality and body measurements remain confined.
Talking about her education, Karkic has majored in theatre at  Queen's Universty and received her Bachelor of Arts Degree with Honours. She graduated with her degree in Broadcast Meteorology from Mississippi State University.
Regarding her family,  Nicole has a younger sister and mother, whom she only talked on her social sites. She talked about her father in one of the comments on her post on her Twitter on 16 June 2013 stating that she lost her father six years ago.
From her earlier age, she had a strong passion for drama and arts, and this subsequently led her to follow a career path in broadcasting. After graduating from her college, she began working for Global TV where she hosted 13 episode of Gamer Girlz, a show dedicated to reviewing video games as well as attending various competitions and conventions across Canada.
Karkic even worked for Roger Communication hosting their "Most Sports Show" from between May 2007 and February 2008. Shortly after resigning from the network, she moved to The Score Television Network, where she worked as a TV Host covering various topics from sports to promoting their commercials. 
Natural performer Nicole is committed to her work and has spent many years delivering weather reports to people of Canada. Currently, Nicole Karkic is a Weather Broadcaster from Canada who works for the Weather Network.
Life Beside Broadcaster
It remains known that Nicole Karkic is a happily married woman, but she has been reluctant in revealing the details of her partner, let alone the details of their wedding.
But she did mention her husband in one of her tweets back on 3 October 2016, the day she exclaimed to be the National Boyfriend Day.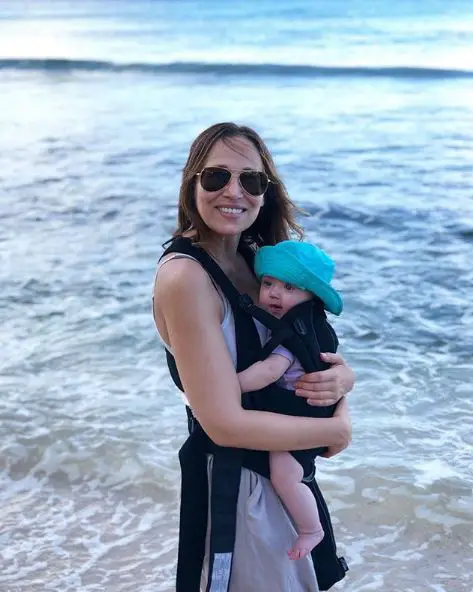 Nicole Karkic posing with her baby 12 January 2018. (Nicole's Instagram) 
Nicole Karkic shares a beautiful daughter, Marlowe Baie, who was born on 4 August 2017, with her husband. Although Nicole doesn't love flaunting her husband, she frequently keeps her fans updated on her cute daughter. 
Back on 18 December 2017, Nicole shared a picture on her Instagram where she affirmed that her nine most liked photos of the year featured her daughter.
Similarly, back on 30 November 2017, she shared a picture with her baby girl via Twitter, where she exclaimed that she's teaching her daughter to use the clicker before she debuts on T.V.
Despite Nicole Karkic hasn't shared much about her better half to the media, no indication of separation from her has been spelled out in the media.