Michael Olowokandi is a famous name in the world of basketball who rose to highlights after the Los Angeles Clippers first picked him in the 1998 NBA Draft.
He went on to play for five seasons with Clippers which was a fruitful career-run for him as he received a whooping salary to add to his total net worth of $20 million.
Furthermore, Michael is a golden-hearted man who has always stepped ahead in performing charities and donations; hence, he has donated $100 thousand in Los Angeles to the Children's Hospital.
Michael Olowokandi's Wife & Children Details
If you have followed the American television series 'Basketball Wives' over the years, you must be familiar with the lady who represented the show as the ex-girlfriend of the famous basketball player, Michael Olowokandi. 
And if you still have no idea about it then, you will know now, as Suzie Ketchum, actress, appeared in the show as the ex-girlfriend of Michael.
You Might Like This: Matt Drudge Married, Gay, Report, Net Worth, Wiki
Initially, Michael and Suzie met while attending college at Pepperdine University in Malibu, California. With the attractive persona that Michael possesses, there is no confusion on why 19-year-old Suzie chose Michael as her lover.
Meanwhile, Suzie got pregnant with Michael's kid during her senior year in college. The two happily welcomed their first baby and started enjoying their parenthood. Moreover, Suzie gave birth to her second baby as well, which showed that they were clear about their future together. 
But like every relationship that goes through ups and downs, Michael and Suzie, too saw bitterness in their relationship. In December 2001, Suzie attacked Michael throwing watch and earring due to her jealousy as Michael was accompanied by an unidentified woman when he was returning from Clippers's trip.
Suzie even filed false allegations on Michael saying, he attacked her, which got him arrested. Later, Suzie took the case back by taking the blame on her head stating she was responsible for the whole issue and explained that she felt exceedingly jealous of the other woman; thus, she just wanted to hurt Micheal.
With all the bits and twists, the couple finally separated in 2009 after living 10-years together, where Suzie handled the custody of two children. 
As of now, there is no update regarding Micheal's relationship, which can reveal his dating/married details with any girlfriend/wife.
Michael's Bio: Age, Family Insights
The Los Angeles Clippers star player, Michael Olowokandi, was born on 3rd August 1975 in Nigeria, as per his bio.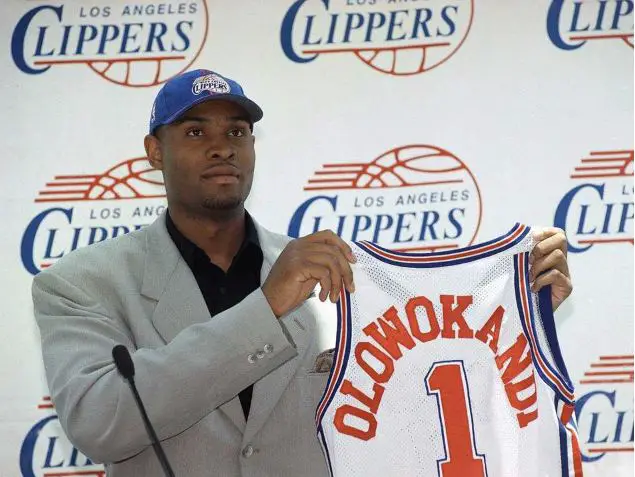 Michael Olowokandi shows up his Los Angeles Clippers's jersey. (Photo: Nick Ut/AP)
He maintains a very low-profile image in the media; thus, he is not seen open up details about his family members too often. However, his father's name is Ezekiel, who is a Nigerian diplomat. During his growing years, Michael was supported by his father, providing every necessary resource to do well in his life. 
Michael, age 44, also has a brother, Soji Abbidemi Olowokandi, who was arrested for identity theft when he allegedly bought a 1996 Chevrolet Blazer in St. Louis using a forged Ohio driver's license with the identity of a Natural Resources Conservation Service employee. 
Read More: Sam Matterface Married, Wife, Divorce, Bio, Age, Family
Moving on, Michael is a graduate of the University of the Pacific who stands at a height of 7 foot (2.13 meters).