American stand-up comedian Michael Kosta has enticed the global audiences with his appealing sarcastic side. Michael is renowned as the host of E! Network's infotainment series The Comment Section and Fox Sports 1's Crowd Goes Wild.
Along with his popularity as a comic superstar, Michael showers comedy when gushing about his relationship status. He talks about being gay and his want to have a physical relationship with other stars, hilariously. 
Michael Kosta's Relationship Life: Is He Gay?
Michael no doubt entices the audiences with his stand-up comedy. Despite flashing out his comic talent in front of the mass public, Michael remains tight-lipped when it comes to the inquiry about his off-screen whereabouts; especially relationship related matter.
Michael's silence on married and dating life emerges a lot of speculations regarding his sexual orientation. Meanwhile, he never misses a chance to push the rumors up the course with his satirical posts on social media.
One such instance was on 25 June 2014 when Michael tweeted a picture where he was standing aside his comedian friend, Joel McHale. Thanking Joel for the lovely image, Michael captioned that they would make a beautiful gay couple. Some of his fans may have raised their eyebrows seeing Michael's post. However, to be fair, it was just another piece of comedy from the great comedian.
Besides, Michael mentioned the fact that he was not gay during his stand-up comedy on Comedy Central aired on 21 January 2011. Addressing the point of being straight, Michael comically flaunted his sarcastic side and joked that he would like to have sex with famous singer Justin Timberlake and a few others.
Going along his comic side, Michael was spotted flaunting the picture of his hamster on 2012's Twitter post with the funny caption 'I love my girlfriend so much.'
It doesn't get old with Michael Kosta, who instead of mentioning about his current or future wife, hides all his relationship facts behind his sarcastic avatar.
Michael's Biography: Sells Racket To Initiate Comedy
Michael Kosta was born on 27 September 1979 in Ann Arbor, Michigan. Michael stands tall at the height of 6'4" and holds American nationality.
Michael has always been a family man; whether it be flaunting a love for his parents or refreshing them with his sarcastic side. He frequently mentions them on his social media accounts.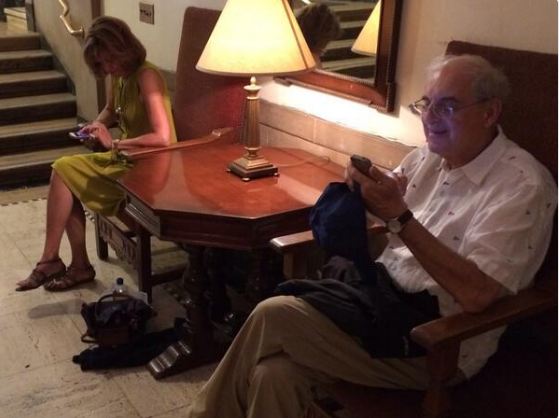 Michael Kosta enjoys family time with mom and dad on 12 July 2014 (Photo: Michael Kosta's Twitter)
One such instance was on 12 July 2014, when Michael twitted the picture of his mom and dad, where they were busy exploring their cell phones. Michael's caption, 'Nice to see you too Mom and Dad' revealed the sarcastic side of the picture.
For his academics, Micahel went to Huron High School before attending the University of Illinois. He earned a bachelor's degree in Speech Communications in 2002 and subsequently played tennis on the ITF and ATP tour. Later on, he was hired as the Assistant Men's Tennis Coach for the University of Michigan.
Besides his journey as a tennis coach, Michael generated a lot of interest in stand-up comedy and went on to perform at various local comedy clubs. After a while, he gave up his racket to buy a microphone and started a full-time job as a comedian based in Los Angeles in 2005.
Since then, Michael has successfully flaunted his comic side appearing on various shows, including The Tonight Show with Jay Leno, Conan, and Late Night with Seth Meyers. Besides, he performed on a half-hour Comedy Central special called Comedy Central Presents: Michael Kosta in January 2011.
Furthermore, Michael hosted The Comment Section for the E! Network, and FOX Sports 1's Crowd Goes Wild, before joining CC's The Daily Show in July 2017.   
As a Comedy Central correspondent, Michael Kosta amasses a compelling income. His average salary of $84K at the network massively boosts his substantial net worth.