Meredith Vieira is an American journalist and also a famous host for talk shows, and game shows. She is a special correspondent to NBC News widely known for co-hosting the long-running morning news program called Today which aired from 2006 to 2011.
Meredith is also known for serving as the original moderator on the ABC talk show called The View which aired from 1997 to 2006.
Meredith was the original host of the program Who wants to be a Millionaire?. She was the presenter on Lifetime Television's Intimate Portrait series and has been a contributor to Rock Center.
The Stunning reporter was once offered to pose on Playboy magazine. However, he declined the offer.
Meredith Vieira During Her Young Age
Meredith was born on 30 December 1953, in Providence, Rhode Island in the United States. She grew up in nearby East Providence. She was raised by her father, Edwin Vieira- a medical doctor and her mother, Mary Elsie Rosa- a housemaker. She grew up alongside three brothers- Edwin, Steve, and Jeff.
Both of her parents were first-generation, Portuguese Americans. Thus, Meredith is an American of Portuguese ethnicity.
During her young age, Meredith attended a Quaker, all-girls school in Providence which was called Lincoln school. She graduated from there in 1971. Later she graduated from Tufts University with a degree in English from in 1975.
Net Worth
Meredith began her broadcasting career in the year 1975. She first worked as a news announcer for WORC radio in Worcester, Massachusetts. Meredith did afternoon drive news during the B. J. Dean Show.
She began her career in television by working as an anchor and local reporter at WJAR-TV in Providence, She eventually made her way into the newsroom at WCBS-TV in New York City. There she was an investigative reporter from 1979 to 1982.
More From NBC News: Jacque Reid Married or Engaged, Husband, Boyfriend, Net Worth, Bio
Meredith also worked as a correspondent for nationwide news-magazine shows including 60 minutes and West 57th.
In April 2019, after the longest time away from the television, Meredith returned on NBC News Today to fill in for Hoda. She had her audience and crew in tears of laughter as she joked about menopause and on several topics.
All her life she has been an exemplary working woman. She must have amassed quite a fortune from all her works adding up
Meredith's Married Life
Meredith is married to her beloved husband Richard Merrill who is an American journalist, television producer, and author. The couple got married on 14 June 1986, three years after their first encounter. It wasn't love-at-first-sight for them. Their first impression towards one another was not so good.
Meredith continued to go out with Richard even after he revealed about his multiple sclerosis (a disabling disease of the central nervous system). Despite being criticized by people on their alliance, Meredith never allowed the outsider's judgments to come in between them. Nonetheless, having the chronical disease in the family certainly made impacts on their life.
Look For: Dylan Byers Wiki, Bio, Age, Married, Wife, Gay, Family, Salary
Richard mentioned all about it in his books- 2005 memoir Blindsided and Chasing Hope: A Patient's Deep Dive into Stem Cells, Faith, and the Future. 
Meredith and Richards's married life has been quite a roller coaster. They went through four tragic miscarriages.
Today, the couple is happy to have each other in their lives. Richard is battling his colon cancer. He is legally blind and struggling with his legs and feet.
However, he is still looking forward to life and thankful for the years with his wife and three healthy children Benjamin, Lily, and Grabiel.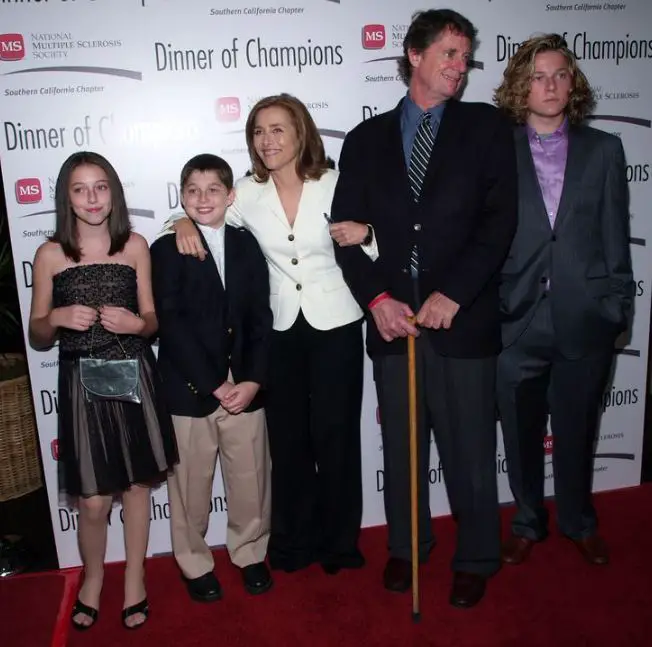 Meredith Vieira, with her husband, Richard Merrill, and kids- Lily, Benjamin, and Grabiel (Photo: goodhousekeeping.com)
Meredith and Richards happily shared the news of their son- Grabiel's recent engagement with the media.