American-based British broadcaster Melanie Bromley is famously known as the Chief News Correspondent for E! News. She has also been featured on other networks such as Good Morning America, CNN, The Today Show and BBC.
Apart from that, the journalist was once diagnosed with Basal Cell Carcinoma, the most common type of skin cancer in the US. 
Is Melanie Single or Married?
Being one of the beautiful journalists, Melanie undeniably has a huge number of admirers, who are always interested to find out about her dating affair and possible husband.
However, Melanie appears to be single as she timely flaunts her singlehood via her social media posts.  Back on 22 October 2013, replying to one of her fan's question of 'do you have a boyfriend,' Melanie tweeted stating that she had no any boyfriend.
Moreover, on 14 February 2018, Melanie made a whimsical tweet on Valentine's Day. In the tweet, she wrote, Happy Valentine's Day My Loves.#Selflove! And, hinted that she had no boyfriend to celebrate the day of love with, relish the time.
Melanie's social media accounts lack the presence of a person that can be given her partner tag. She has also not been romantically linked with any man till date. So, speculating at all the hints, Melanie is probably single. 
Melanie Bromley's Biography
43-year-old Melanie was born on 30 September 1974 in England, with the birth sign Libra. 
She is close to her parents and spends quality time with them whenever she gets a chance. Back on 9 May 2016, she celebrated America's Mother's Day with her parents at Malibu and even flaunted the timebeing on her Instagram account.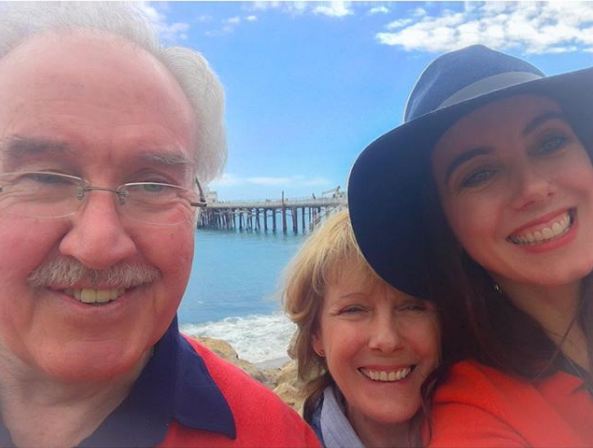 Melanie celebrates Mother's Day with her parents at Malibu, California on 9 May 2016 (Photo: Melanie Bromley's Instagram)
Well, with support from parents, Melanie attended the University of Wales and earned a Bachelor of Science undergraduate degree in Geography. Then, she continued her education at City University, London attaining a Master's degree in Broadcast Journalism, specializing in financial journalism.
Melanie, who stands at the tall height, began her career as the European Bureau Chief for Us Weekly in 2003, overseeing all international news coverage for the magazine.
In 2012, Melanie joined E! News and E! Online as Senior Correspondent and helped spearhead coverage for multiple big breaking stories around the world, including the royal weddings of Prince Harry and Meghan Markle, along with Prince William and Kate Middleton, the 2012 Olympic Games in London,  and the births of Prince George and Princess Charlotte.
In 2014, Melanie was promoted to be the Chief News Correspondent of the magazine.  After that, she moved to Los Angeles, Calif. to become the magazine's West Coast Bureau Chief in 2017.
Melanie appeared as a pop culture expert on other U.S. networks and in her native UK. Not only that, but she also featured on other networks such as Good Morning America, CNN, The Today Show and BBC.
With her work as a correspondent on E! News, Melanie has undoubetedly amassed a net worth that is more than a million dollars. However, she is yet to reveal the exact figures of her net worth.
Nevertheless, the average salary for a Broadcast Journalist in London, UK is estimated to be around £36,494.
Reveals Shock After Being Diagnosed With Skin Cancer
Melanie opened up about her cancer experience and her learnings from the disease via a personal essay on E! Online on 9 June 2015.
In the essay, she explained that she was about to go on air when she got the call from her doctor telling her that her biopsy came positive. After she got the news, Melanie was devastated.
Melanie had gone to see her doctor when she spotted some discoloration on her skin. The doctor suggested her for biopsy, and the biopsy revealed she had cancer. Melanie was diagnosed with Basal Cell Carcinoma, most common skin cancer in America.
She shared that she got the skin cancer even after avoiding tanning or sunbathing, but she admitted to having sunburn on her face when she was a child. Instead of getting depressed Melanie, who faced weight loss during cancer phase, bravely fought in the best way possible and turned herself cancer-free.