American TV news reporter Maureen Maher is successfully building up her career as a CBS correspondent since 1997. She formerly worked for WJBK-TV and WJRT-TV before grabbing a massive success in one of the most thriving networks.
Unlike her professional career, Maureen's secluded life is a bit mystery to many of her fans and followers. Though she lives a compelling life behind the cameras, she chooses to keep it a secret to herself.  
Is The Sensational Reporter Married?
Well, yes! Maureen Maher is happily married and lives a resounding life with her husband in Chicago, Illinois. The couple has two children whose identity remains a mystery.
Though her professional job demands of presenting the facts and figures in front of the public, Maureen is quite the opposite when it comes to the information regarding her off-screen life. Maher doesn't care to venture on the topic related to the identity and information about her husband. Besides, she hasn't spilled any beans on her past boyfriend and relationship life.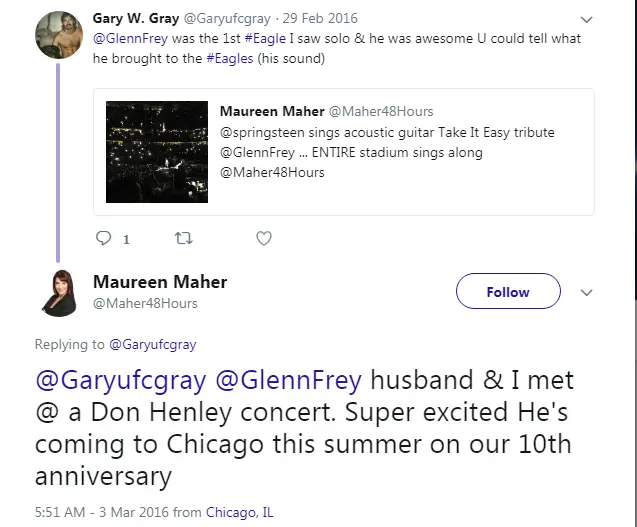 Maureen Maher mentioning about her husband (Photo: Maureen Maher's Twitter)
However, back on 3 March 2016, Maureen on her Twitter revealed that she met her husband at a Don Henley concert. Furthermore, she expressed her excitement of meeting him in the summer on their 10th anniversary.
Apart from that, Maureen has kept her family privacy intact on the social networking sites. It could be fair since the veteran reporter has grasped a tremendous success in the field of media with her continuous professional dedication.
Maureen Maher's Bio: Age, Family
Maureen Maher was born in 1966, in Detroit, Michigan, which makes her 52 years of age this year. American native Maureen belongs to white ethnicity and stands at an average height of 5'4".
Maureen was given up for adoption by her biological parents when she was an infant. Her parents were high school sweethearts, and her mother got pregnant early and was unable to take care of her daughter. As a result, Maureen grew up without her birth-parents.
Growing up in the new family, Maureen graduated from the Loyola University with a Bachelor of Arts degree in Communications in 1991. After her graduation, Maher initiated her media career working as a morning drive news anchor for the Chicago based WLUW (FM) in 1991. Maureen soon moved to Detroit in 1992 and worked as a reporter for Detroit-based TV station WJBK-TV and CBS-owned radio station WWJ.
Maureen's CBS Career, Net Worth
Back in 1997, Maher joined CBS network and initially served as a Chicago-based CBS Newspath correspondent until 2002. Subsequently, Maher reported for CBS Evening News on the War on Terror, the fall of the Taliban in Afganistan, the 2002 Kenyan hotel bombing, and US natural disasters.
Since 2003, Maher is continuously hosting 48 Hours Mystery, a CBS true-crime documentary and news program broadcast.
For her continuous association with the CBS Network, Maureen certainly gets paid a handsome amount of money. Some reports suggest her yearly earning dwells above a million dollar.  However, her actual salary and net worth remain confined to the media.