Mariahlynn is a rapper who came to fame after appearing in the VH1's reality shows, Love & Hip Hop: New York (2015-2020) and Love & Hip Hop: Atlanta (2017-2019). 
Until today, she has released several hit songs like Once Upon a Time (her debut track), Physical, Too Much Money, and Never Bitch which are also available on her eponymous YouTube channel. 
Mariahlynn's Bio: Parents & Ethnicity
Mariahlynn was born as Mariahlynn Araujo on 17th July 1990 in Jersey City, New Jersey to Raphael Araujo, and Tasha Jacoby Araujo. She grew up in Newark, New Jersey as a child. She is the oldest of the four children to her parents—has a younger brother named Danny and two younger sisters; Victoria Ramos and Icelynn Jacoby.
Mariahlynn possesses the Italian-Puerto Rican ethnicity since her mother is originally from Italy whereas her father is originally from Puerto Rico.  
Early Life
Mariahlynn's mother Tasha was an addict, suffering from substance abuse issues. She has spent most of her life in and out of jail for shoplifting and credit card frauds. Likewise, Mariahlynn's father has also been locked up several times. Due to the instability of her parents, she had a troubled childhood. She grew up in several foster homes as a child.
Despite her hardships, she never left her family members and has always supported her younger siblings, including one of her nephews in the best possible ways. 
Rapper: Ed Lover Married, Wife, Divorce, Daughter, Net Worth, Bio
On the other hand, she also didn't leave her passion for rapping. She began composing raps since her teenage years. In the midst, she even worked as a stripper to support her family. Also, she worked as a go-go dancer.
Eventually, she got the chance to earn both fame and money after being cast in the sixth season of the VH1's reality show, Love & Hip Hop: New York which proved to be her turning point in life and a big break in career. She became a star overnight after her journey on the show made several headlines. 
Relationship Talks 
Mariahlynn is currently dating Rich Dollaz, CEO of the management company, Dollaz Unlimited (founded in 2009). 
The pair began dating secretly in 2011. However, their relationship went public while they were both featured in the reality show, Love & Hip Hop: New York.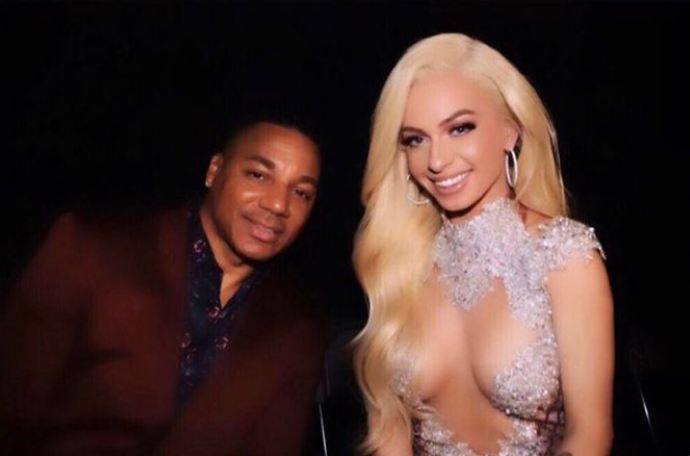 Mariahlynn with her boyfriend, Rich Dollaz wishing him a Happy Valentine's Day on 15th February 2020 (Source: Mariahlynn's Twitter)
During the first part of the ninth season of the reality show which aired from 11th March to 18th March 2019, Mariahlynn revealed that they had been in an on-and-off relationship for eight years.
Explore More About Rich Dollaz: Rich Dollaz Wiki: Married Man Or Dating Girlfriend? Daughter, Net Worth
Additionally, addressing her and Rich's pregnancy rumor in the show, she said,
"Okay I am not pregnant. Unfortunately, when he found out he had diabetes, he got a vasectomy and we have been talking about kids for a while. So we're trying to see about this reverse thing when he's ready but I would one day like to be [pregnant]."
Prior to her relationship with Rich, Mariahlynn dated her Love and Hip Hop: New York co-cast, James R and Cisco Rosado, CEO of CMG Entertainment.