Luciana Zogbi is a YouTube star who gained her big break from her cover of All Of Me by John Legend. She is a commendable singer known for her melodious voice, who has now released her hit single, Where We Belong, in addition to dozen of covers of songs by famous singers.
Impressing her 2.1 million subscribers with her vocal skills and beautiful facial expressions, she is undoubtedly loved by everyone all around the world.
At the height of her career, she is estimated to earn an average of €11.2K - €179.1K per year. This amount does not come off as a surprise since the YouTube queen is exceptionally talented and deserves it all!
Luciana Zogbi Wiki - Age, Parents 
Luciana Zogbi was born on 27 October 1994 in Sao Paulo, Brazil. Of Brazilian nationality, she embraces Brazilian-Lebanese ethnicity and is of 24 years of age.
Read More About: PontiacMadeDDG Real Name, Age, Net Worth, Height, Dating, Girlfriend, Parents
She was raised in Brazil by her parents, where she spent most of her childhood listening to the music composed by her musician father. She believes her father is her greatest inspiration in the field of music and had she never followed her father's footsteps; she would have never become a star today.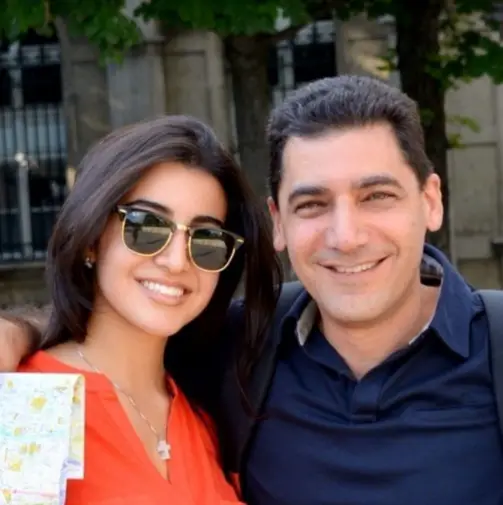 Luciana Zogbi enjoys quality time with her father on 1 July 2014 (Photo: Luciana Zogbi's Instagram)
When she was a child, Luciana occasionally sang for her family and friends during special occasions, but she only started her YouTube career after her singing video went viral on the Internet. Apart from YouTube, she also sang in coffee shops and bars in Brazil. 
Because she spent most of her childhood in Brazil, her recent single, Where We Belong was also about herself, a Brazilian friend, and their lives there. She undoubtedly loves her motherland, and this love is represented in her music very well.
At the age of 24, Luciana is an avid admirer of sports and Game Of Thrones, as revealed in an interview. She looks forward to promoting her music and spreading the right message to the world through the platform she has been provided.
Does Luciana Zogbi Have A Sister?
In some of the cover videos, Luciana has mentioned about her twin sister Maria in the description, which makes many of the fans curious. However, it is clear that the twin sister is not real and it is just edited to make it seem like there are two people in the video.
Similar To This: Dominic Sandoval Wiki, Girlfriend, Dating, Gay, Parents, Net Worth
However, the alter ego twin sister Maria always seems to sing at the wrong time and tries to dominate Luciana in the videos. The concept of the twin sister has nevertheless made the video more interesting to watch, and her subscribers cannot watch Luciana and Maria enough!
Luciana Zogbi Boyfriend, Dating?
Luciana is a private person, who does not like to talk anything else about her life rather than her music and career. Definitely a career oriented person, she has yet to talk about her boyfriend as nobody has any clue if she is dating anybody or not!
Luciana has also not posted pictures with any man on social media, who can be suspected of being her romantic interest. The lack of information has made it very difficult to determine the reality of her relationship status- maybe she is relishing her singlehood or living the time of her life with her husband!