Lindsey Slater who is currently a weather correspondent in WISN 12 News, has always been fascinated by weather in all its forms. During her childhood, she would go running outside to take the snapshots of thunders and bad storms. 
Her childhood fascination with weather followed to her adulthood, and later she chose a career related to it. As of now, the lady has excelled in her career and has garnered a million viewers and followers. 
Short Bio And Career
Born in 1986, Lindsey Slater aged 32 celebrates her birthday on 15 May every year and currently resides in Milwaukee with her family. She graduated obtaining B.S. in Environmental Science from Carroll University in Waukesha, Wisconsin in 2008. Also from Mississippi State University, in 2010 she earned her B.S. in Broadcast Meteorology.
In September 2006, she interned at WISN TV Channel 12 where she rehearsed and performed weekly weathercasts. She polished her skills working for four months at WISN 12. From March 2007 to January 2009, she also interned and volunteered in Noaa National Weather Service and WKOW TV Channel 27.
Furthermore, in February 2009, Lindsey started working as the morning meteorologist at FOX 40 WDBD-TV where she covered severe weather events including 2011 tornado outbreaks, hurricane coverage, and even winter storms. She also co-hosts on a local morning show, Fox 40 A.M. and later in June 2012 she left WDBD-TV.
Going to Springfield, Missouri area, she joined KSPR-TV in June 2012 and worked as Morning and Midday meteorologist for KSPR 33 News for more than four years. Finally, in June 2016, she joined WISN-TV where she is broadcasting as weekend evening meteorologist in WISN 12 News. 
Lindsey Slater Boyfriend, Dating! Insight Into Her Love Life
Love can encourage us to achieve some of the insane and most astounding feats. Talking about her love life, the weather reporter is married to Mark. In 2009, she and her husband Mark moved to Mississippi when Lindsey started to work at FOX 40 WDBD-TV.
The duos are active in social media and are seen posting their photos together. She shared her husband's photo on Twitter, saying she just celebrated her 10th anniversary on 7 December 2017.
The lovey-dovey couple enjoys their time together. In Oak Creek, Wisconsin on 11 February 2018 Lindsey posted their photo on her Instagram. The metrological angel and Mark apparently are made for each other.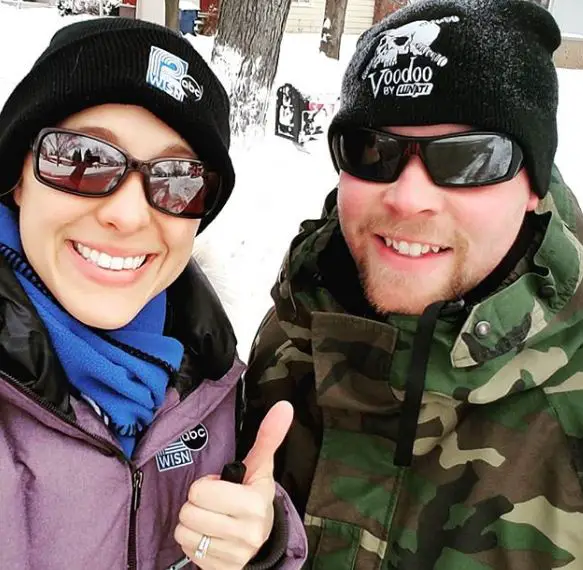 Lindsey and her husband Mark together in Oak Creek, Wisconsin on 11 February 2018 (Photo Credit: Lindsey's Instagram)
Besides her work as tracking weather, Lindsey enjoys spending time with her husband, Mark. The couple was seen dating at Harbor House in Milwaukee on 17 February 2018.
Despite the absence of their married history, Lindsey has divulged that she is close with her husband and rejoicing her espoused life.