The 23rd May 1958 born comedian, Lea DeLaria has reached the age of 61. With her image of being the first-ever openly gay lady to appear on a late-night show, she has been a motivation to many youths.
Besides her attributions in the show-biz, Lea also got famous for her weight loss journey. She made a dramatic weight loss of 50 pounds in 2015 for the cause of her health. Many people highly appreciated her for her impressive journey of weight loss.
Hopefully, Lea continues with her encouraging motives and influences many in the upcoming days as well.
Wife, Partner
Somewhere in the late 90s, there were spectrums of Lea dating a model-student, Jennifer Foley. As there were not many follow-ups of their relationship, it's being, and the end is still a secret.
The most famous of Lea's relationships are with Chelsea Fairless. The two were together for quite a long time. Their relationship turned into engagement in 2015, but couldn't proceed any further.
You May Also Like: Mary Carillo Married, Divorce, Partner, Lesbian/Gay, Net Worth, Bio
Later, after their split, Lea's ex-fiance, Chelsea got married to stylish Tatiana Angeles.
However, Lea and Chelsea have reconciled and remained on a good note as friends.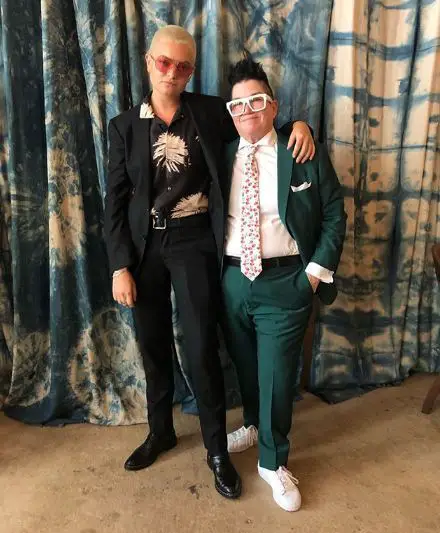 Lea DeLaria poses with his ex-fiance, Chelsea Fairless' wife Tatiana Angels on 4th August 2019 (Photo: Chelsea Fairless' Instagram)
Lea has had a long interview prior to her 60th birthday. In the interview, she has mentioned that despite being in her 60s, she is still a sexually active lady. Whether as a fun statement or real, Lea has said that she has never been monogamous.
Ever since her 20s to this time of her life, Lea believes that monogamy in the tool of patriarchs to enslave women. Thus, it would be no wrong saying, despite dating one person in times, Lea has always been sexually active with many partners.
Friends Died of Aids
A month before her 60th-year interview, Lea revealed that she had no fear of dying as she had seen many of her loved ones die in her lifetime. She unveiled the fact that she was a part of the society that suffered the AIDS crisis. Thus, during that time, Lea saw a lot many deaths in front of her.
Most of all, there were a huge number of her friends who died out of the syndrome. Lea even communicated the number of her friends' death as 86, where she stopped counting.
It's apparent how her friends' death has made Lee a stronger person. She has stood out for herself as well as others, which makes her an inspiration for many.
Her Net Worth
Lea has been one of the best known lesbian comedians around the United States. She has been active in the field of showbiz for more than two decades.
Besides being a comedian, Lea is also an actor and a musician. Her attributions to the field of music, comedy, and acting stands in a significant number.
Lea is hugely recognized for the Netflix show Orange Is the New Black. Besides, she is also known for her splendid role portrayals in the shows, Dear Dumb Diary, Will & Grace, Saved by the Bell, and many more. Similarly, Lea's movies include The First Wives Club, Rescuing Desire, Ass Backward, and so on.
See Also: Shereen Nanjiani Married, Husband, Partner, Lesbian, Personal Life
As of 2019, Lea is in the news for her entry in the thriller series Reprisal. She is included as a recurring character in the series.
Thus, for her whole life, Lea has made an enormous number of contributions in the world of entertainment. From all those Lea has garnered a net worth of $1.5 million.