Certified Broadcast Meteorologist with over ten years experience, Lauren Casey works with the CBS3 Evening News in Philadelphia. The Emmy awarded journalist joined CBS3's Eyewitness News in September 2015 alongside Chelsea Ingram. Before that, she worked at its sister station, WCCO-TV in Minneapolis since 2011. She was also the morning meteorologist at WINK-TV in Southwest, Florida.
Lauren Casey Salary / CBS3
Lauren Casey worked at WCCO-TV in Minneapolis before working at CBS3's Eyewitness News in Philadelphia. The versatile meteorologist, who is at the height of her career, has undoubtedly amassed a substantial amount of net worth. 
Since the average CBS corporation salary is around $74K, it is expected that she makes a decent amount. Even though the exact figure is in shadows, her salary ranges between $41K to $77K per year. Lauren enjoys a handsome salary given that she is very dedicated to her work.
Read Also: Crystal Egger Wiki, Age, Married, Husband, Divorce or Boyfriend
Her Wedding, Husband
The public is always curious to know about the personal life of beautiful, bold and talented Lauren Casey. But, the details of her love life is still confined. She hasn't talked about her private matters in any interviews or social media. However, she tweeted a Valentine's Day post in 2017 suggesting that 'Science' was her one true love.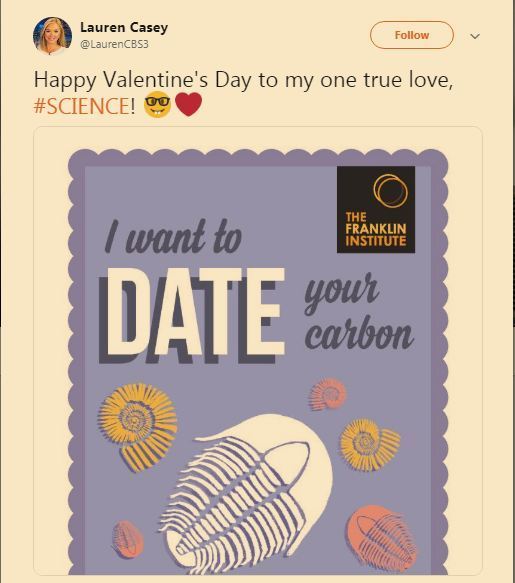 Lauren Casey wishes Science on Valentine's Day on 14 February 2017 (Photo: Lauren Casey's Twitter) 
Even though her love life is a big secret, she once talked about the topic in one of her tweets. A fan asked her engaged status on Twitter. Lauren was quick to deny it.
Lauren Casey tweets that she is not the next to get engaged on 17 July 2017 (Photo: Lauren Casey's Twitter)
If the talk about her engagement wasn't enough, Lauren was even rumored to be pregnant in 2013. A journalist who goes by the name, C.J, asked if Lauren was pregnant via a tweet in an indirect manner. Lauren didn't seem to like the question and replied that it was not C.J's business to involve in her private matters. Casey didn't address the rumors as well. But, the stories stopped since there hasn't been an appearance of a baby yet.
Don't Miss: Helen Willetts Married, Wedding, Husband, Pregnant, Divorce
For now, Casey is neither married nor pregnant as the rumors surround her. Casey has made it clear that her potential wedding won't be taking place anytime soon. And she definitely isn't planning to start a family with a husband.
Lauren Casey's Wikipedia, Age & Family
Lauren was born on 14 January 1982 in Lancaster, Philadelphia as per her bio. Even though she was born there, she considers South Jersey to be her native home because her mom and grandparents live there.
Even at the age of 36, Lauren shares a deep bond with her family. She often talks about her mother on her social media sites. In fact, the journalist even left her job at WCCO-TV in Minneapolis and moved to Philadelphia to live closer to her mother after her brother's death. 
Her Wikipedia suggests that she earned her Bachelors of Science degree in Meteorology from Rutgers University in 2006. While at the university, she interned with the National Weather Service in Mount Holly, New Jersey and at WCAU-TV in Philadelphia.
Besides, Casey also likes to spend her time in the green environment. She has trekked through the parks of Zion, Grand Teton, and the Grand Canyon.