Kumi Taguchi is an Australian journalist and broadcaster who has spent more than two decades of her career working for various news channels in Australia and Asia.
With varied experience in the broadcast industry, she is praised for her contributions to journalism. 
Currently, she is serving as a host and content maker at the Australian Broadcasting Corporation.
She has been working there for a decade since she joined the channel in 2010, holding different positions from reporter and presenter to host at different times. 
Kumi Taguchi's Bio, Parents
Kumi Taguchi was born in Australia. She grew up in Mittagong, in the New South Wales' Southern Highlands with her family. 
Her father, Akira Taguchi has already passed away. Kumi has also shared his story of struggling as a child in Japan during World World II and the challenges he faced while growing up.
Worth Time: Is Robin Stickley Married? Blessed With Baby; Husband, Boyfriend & Pregnant Details!
Her father was offered a job at the Australian Broadcasting Corporation when he was 40. So, he migrated to Australia in 1974 and worked as an Australian-Japenese journalist.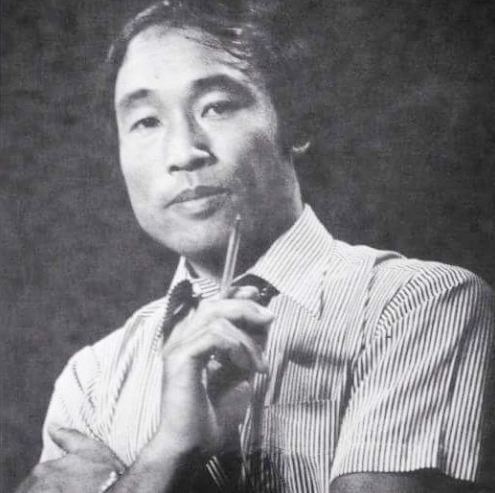 Kumi Taguchi's father, Akira Taguchi, on a photo shared by her on 14 August 2018 (Photo: Kumi Taguchi's Twitter)
Kumi didn't get the chance to become closer to her father as her parents got divorced when she was of a young age.
But during the later years of her father's life, she visited him and also spent time together. 
While growing up in her hometown, Kumi loved feeding chooks, riding horses and eating Japanese food.
In her teenage years, while watching television, a passion grew in her to appear on television and to know more about it.
So, soon after graduating from Frensham School in 1993, she went to the University of Wollongong in 1994. She graduated with a Bachelor in Creative Arts' Degree in 1996, majoring in Media and Music.
Ethnicity
Kumi Taguchi has a mixed ethnicity since her father was originally from Japan whereas her mother is from Australia.   
Married & Children Details 
Kumi Taguchi is happily married to Mark Dando, with their 13-year-old daughter.
Interesting: Charlie Gasparino Married & Has Wife! Children, Trump Talks, Salary, Net Worth 
She has mentioned her husband frequently on her social media posts. 
On a tweet dated 4th July 2015, she thanked her husband for a surprise helicopter ride and shared a beautiful picture of Sydney.
Additionally, during her spare time, she keeps away her electronic things and spends time listening to music, reading and making her life adventurous every day.