Ken Rosato, an American Journalist, famously known as an anchor of Eyewitness News This Morning on ABC network, has reached the heights of his career, winning Emmy award for his brilliance in reporting. However, while his professional accomplishments are transparent, Ken's personal life remains secretive as he is extremely private about his love life. 
Is Ken Rosato Married?
Some time ago, Rosato was tagged with the name of his co-worker Lori Stokes assuming she was his wife. The rumor picked up after their followers witnessed their timely appearances on each other's social handles. 
But in an Instagram post from February 4, 2015, Lori shared a picture with Rosato and wrote that he was her television husband. The caption clearly suggested that the duo's togetherness was the result of their profession and nothing else. 
Since then, the rumor has cleared, and he has not been linked with any other partner. But, because of his extreme privacy regarding his relationship, many even assumed Rosato's sexuality as gay. However, quoting him gay would be inappropriate as he has not confessed about his sexual orientation.
Though he never spoke about his love life, his Instagram post of November 11, 2020, suggests some interesting facts. Uploading a couple of vintage pictures of two young men, he wrote, 
Honor a veteran today! Thanks to both my dad (l), Dan Rosato, and my father-in-law (r), John McGlynn, for serving in the Marines.
After reading father-in-law in the caption, his followers jumped on the comment box and began asking if he was married. But, Rosato did not respond to the question. So, at least now we know he is or was somebody's husband, but it remains for him to disclose facts on his partner. 
Learn Rosato's Personal Life Details
Rosato, who stands at the height of 6 feet, was born in New York in 1967. He grew up in a middle-class American family with his sibling Steve. However, the information on his parents is yet to surface out. 
Though he mostly uploads pictures of his workstation, he sometimes introduces his family members. On 22 June 2015, Ken posted a photo with his niece Lauren and nephew Steven and congratulated them on their graduation.
Interestingly, Ken has s special space in his heart for dogs. He has two pet dogs, Penny and Coby. And, the 48-year-old journalist treats his pets no less than his family members. He even timely shares pictures of his two cute Pomeranians on his Instagram, reflecting the love he has for his hounds. 
For his academics, Rosato attended Regis High School in New York City. Later on, he went to New York City University for his further studies, where he received degrees in Film, TV, and Radio.
In addition to his academic excellence, Ken has also claimed a master's degree in Spanish and Italian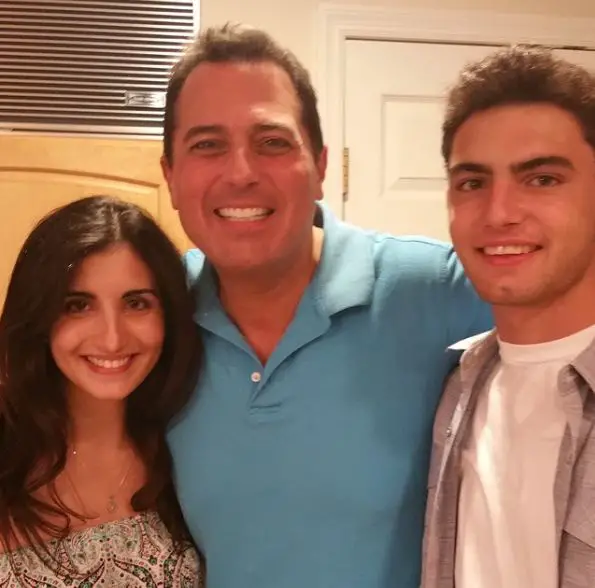 Ken Rosato all in smiles while posing with niece Lauren and nephew Steven on 22 June 2015 (Source: Instagram)
Rosato's Career Accomplishments and Net Worth
As for his professional life, Ken kick-started his career as an anchor for WFOR-TV in 1998. He worked there for two years, moved on to WFOR-TV, and landed as an anchor and reporter for WYNM-TV. Besides, he was chosen as the panelist for the WLIW21 edition.
Afterward, he served for 50,000 watts 1010 WINS Radio and later achieved the post as the News Director and main anchor at 50,000 watts WBLI-FM. Ken is known to work with many other radio stations such as WVIP-FM 106.3, Mount Kisco, WSPK-FM K-104.7, Poughkeepsie, and WFLY-FM Fly-92. As a radio host, 
Besides, Rosato is famed for his anchoring on WABC-TV's Eyewitness News This Morning and Eyewitness News at Noon. He has been serving the WABC-TV station since December 2003 and the show Eyewitness News since 6 July 2007. 
For his media excellence, Ken Rosato has also bagged the famed honor. He won an Emmy Award to report a steam pipe explosion in New York City on 19 July 2007.   
With a prospered career, Ken has undoubtedly garnered a handsome fortune.  But, he is yet to reveal the exact figure of his net worth and also his salary. As per Glassdoor's report, his roughly estimated annual salary swells around 45 thousand dollars.