Kelly Rebecca Nicholas was best recognized as the wife of a well-known far-right conspiracy theorist, Alex Jones. But, once she divorced her husband, her popularity peaked even more instead of diminishing.
Like her ex-husband, Kelly is also known for creating controversies as she has been involved in many publicity stunts. 
However, as of now, she has kept herself away from the media and is living a peaceful life. 
Kelly Rebecca Nicholas' Bio - Age, Family
Kelly Rebecca was born on 2 July 1968 to Jews parents, Edmund Lowe Nicholas and Sandra Kay Heiligman. Her father is a former US diplomat, who was convicted of violating the conflict of interest statute under federal law in 1993.
In her family, Kelly has two siblings: James Edmund Nicholas and Jill Elizabeth Nicholas. 
Read More: Mehdi Hasan Wife, Family, Salary, Ethnicity
Upon her graduation, the Texas native began working as an animal rights activist. She eventually moved to Norfolk, Virginia and became the head of public relations and media operations of PETA. Kelly has also been involved in several publicity stunts which explain the importance of protecting animals. 
During one of Kelly's publicity stunt, she showed up at the Four Seasons Restaurant where she placed a dead raccoon on British-American journalist Anna Wintour's plate. In her next exhibit, she surprised American-Dominican fashion designer Oscar de la Renta by smashing a tofu cream pie on his face. 
Due to her multiple infamous acts, the 50-year-old activist got featured in several American publications, thus, increasing her popularity. Throughout her career, she might have gathered a net worth amounting millions. However, Kelly has not disclosed the exact figure of her net worth. 
Married To Alex Jones
Kelly was once a married woman. She got married to the well-known conspiracy theorist and radio show host, Alex Jones, in 2007. She supported her husband through his thick & thins and even helped him build a career by promoting his shows. 
Kelly also used her public relations and media operations to expand her husband's brand, Infowars. Subsequently, her husband's brand became a popular conspiracy theory and a fake news website. 
Alongside bright fortune, Kelly and Alex also became parents to three children, two daughters and one son. But sadly, Kelly's married life came to an end when the couple decided to get a divorce. For the settlement of their divorce, Alex was ordered to pay $3.1 million along with a luxurious mansion in Austin. 
Continue Reading: Adam Yamaguchi Bio, Age, Wife, Net Worth
Kelly's divorce was officially finalized in March 2015, but the battle of custody for her children continued. In 2017, Kelly fought for the sole custody of her children due to Alex's nefarious behavior.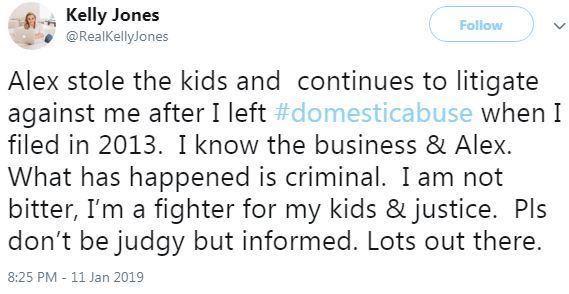 Kelly Jones tweets about her husband's behavior on 11 January 2019 (Photo: Kelly Jones' Twitter) 
During an interview, she revealed that her ex-husband had ridiculed her throughout their married life and often exhibited his rage upon her. 
Eventually, the court granted Kelly to decide where her children should live; whereas, Alex was granted visitation rights.