Katy Zachry should be no stranger to the people who watch NBC 10. For the people who don't know her, she is a fill-in anchor and reporter for NBC 10. Get to know her biography on her height, educational background, career, and her married life with her husband.
Katy Zachry's Bio & Education
Katy Zachry was born on 1 December 1979 as per her bio. For education, she graduated from Bucknell University with a BA in Geography. While she was studying in college, she had the chance to host broadcasting internships which included the network, WHYY in Philadelphia. 
She soon grabbed another opportunity to work at news stations in Roswell, and Albuquerque, New Mexico, and Hartford, Connecticut.
Besides that, she is also a proud member of Students Run Philly Style. The organization seeks to pair mentors with city students through lifestyle coaching, and academic tutoring.
Related: CBS Marissa Bailey Bio: Husband, Age, Wedding Pic, Family, Salary
Katy is an outdoor enthusiast, who can be frequently seen at the soccer fields. She is also a food lover and likes trying new foods at any of Philadelphia's restaurants.
NBC 10, Career / Salary
Katy Zachry began her career by working at KBIM New 10 as a reporter. She then moved to KRQE-TV Channel 13. After two years of working at KRQE-TV, the reporter heightened her career by serving for WFSB-TV Channel 3.
With four years experience of working at the network, Katy finally made her stop at NBC 10. She reports alongside Jessica Boyington.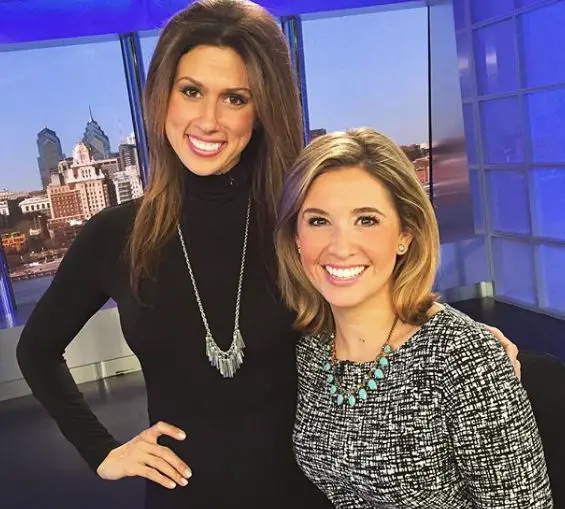 Katy Zachry spends time with Jessica Boyington at NBC 10 on 14 January 2016 (Photo: Jessica Boyington's Instagram)
Katy is an energetic reporter and is passionate about making sure her viewers know what's happening in their community. In NBC 10, her most memorable reporting experience was when she got the opportunity to cover the Jerry Sandusky child abuse scandal in Penn State.
She spent several weeks at State College, covering the trial, and the fall-out. She also earned an Emmy award for coverage of the problematic story. With such great talent and potential in her job, she draws an average salary of $98K per year.
Katy Married, Husband & Children
Katy got married to her long-term boyfriend, Tyler Vandergrift in July 2010. Her husband Tyler is the managing director at Jones Lang LaSalle Incorporated, an investment managing company. 
She has not given the details on how she met her husband. However, it is known that she left WFSB and moved to Philadelphia to get married to her husband. The wedding ceremony and the reception were held in Philadelphia. There is not much detail on her wedding, but it looks like she successfully juggles between her married life and her career.
Read About: Here's CBS46 Tracye Hutchins Age, Family, Wedding, Daughter Info
Katy and her husband took one step ahead in their married life and welcomed their first baby, Lake in 2014. Lake is now four years of age. The couple then welcomed her second baby, named Lily Jane Vandergrift in August 2016.
The reporter added more to her blessings and welcomed another baby in her family in 2018. Katy and her husband had their third daughter, Penn Willow on 6 December 2018.
As of now, Katy is relishing her married life with her husband and three children. She has proved herself to be a family-oriented person.