The pioneer of the media industry, Kate Adie basks on a spectacular journalism career. She matched a high-profile recognition serving as a chief news correspondent for BBC News. Currently, Kate presents BBC Radio 4's weekly programme From Our Own Correspondent.
Unlike her professional career, Kate likes to keep her on-screen life on a low key. Carrying an interesting family history, Kate remains deprived of the marriage knots.
Protects Family Privacy: Kate Adie Stays Unmarried
Kate Adie was born in Whitley Bay, England on 19 September 1945.
She grew up as the adopted child of a Sunderland pharmacist, Wilfred and his wife, Maud. Her birth mother, Dean Dunnet, became pregnant during the war while her husband served in the Royal Army Medical Corps in India. To avoid the societal pressures, Kate was given up by her birth parents to a new family.
After the death of her adoptive parents, Kate was fortunate to come to know her birth mother and was blessed to spend 25 wonderful years with her.
Being let go as a child was the toughest moment in Kate's life. However, she found joyous love in her adoptive family which made her childhood a blessed one. Given the history, it is entirely fair for her to be protective of her family privacy from the judgmental people.
Moreover, Kate is yet to utter the marriage vows even at the age of 72.
Always focused on polishing her media career, Kate has never been married, nor is there any mention of a husband or kids. Besides, Kate is ferociously protective of her family's privacy and keeps every detail under the wraps. 
Kate Adie's Professional Journey:
After receiving a degree in Scandinavian Studies from the University of Newcastle upon Tyne, Kate initiated her BBC career as a station assistant at BBC Radio Durham. Subsequently, she switched to TV and joined the national news team in 1976.
Kate received a big break covering the London Iranian Embassy Siege in 1980. Furthermore, she reported live coverage of the World Snooker Championships.
Besides, Kate regularly reported on disasters and conflicts throughout the 1980s. Her some coverage includes the American bombing of Tripoli in 1986 and the Lockerbie bombing of 1988.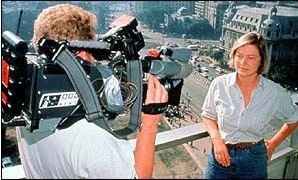 Kate Adie reports for BBC on 31 January 2003 (Photo: news.bbc.co)
Kate's media career amassed a great height when she got promoted as the Chief News Correspondent on BBC. During her 14-year reign as chief correspondent, Kate reported from different war zones around the world.
As of now, Kate flaunts her media skills as a freelance journalist and also as a public speaker. Besides, she is a regular presenter of BBC Radio 4's weekly programme From Our Own Correspondent.
To add to her already famed media career, Kate received tremendous success for her stint as a best-selling author. Her some works include The Kindness of Strangers, Corsets to Camouflage: Women and War, Into Danger: People Who Risk Their Lives for Work and Living with Cancer & Other Illnesses biography: Jasmine and Arnica.  
For her persistent efforts as a media personality, Kate Adie bags a handsome earning, which replicates her hard work and dedication. Reportedly, her average salary at BBC is estimated to be of £43k a year, which boosts her net worth.