Many personalities are involved in the entertainment business in today's scenario. Julissa Bermudez is one of such nature in entertainment, and people adore her talent and hard work. It looks like versatility is in her blood which has helped her to be successful in her career. She has explored herself as an actress, dancer, model, and singer.
She started her professional journey long ago when she was a student of theater. At that time, she took her first step through modeling. She also took the initiation of auditioning. Then as her first big break, she got the role to play in the commercial of Coca Cola.
Julissa Bermudez's Wiki: Bio, Career - Net Worth
Julissa was born on 28 September 1983 in the Dominican Republican. Later, she was brought up in Elmhurst, Queens, New York and grew up alongside her three older brothers.
Julissa majored in theater at New York's Talent Unlimited High School.
You Might Like: Liz Hernandez Married, Husband, Boyfriend, Bio, Age, Net Worth
While studying at high school, she started auditioning and modeling. Soon she got her big break with Coca Cola commercial. The Coca Cola commercial she debuted in rose her to certain fame and led her an easy path to further success. Since then she has gained valuable experience from her various movies like The Wannabe, Make It Happen, and All You've Got.
Julissa has also garnered massive TV audiences from her work in 106 & Park, Jersey Shore, Royal Pains. She is best recognized for her role as co-host of the BET show 106 & Park.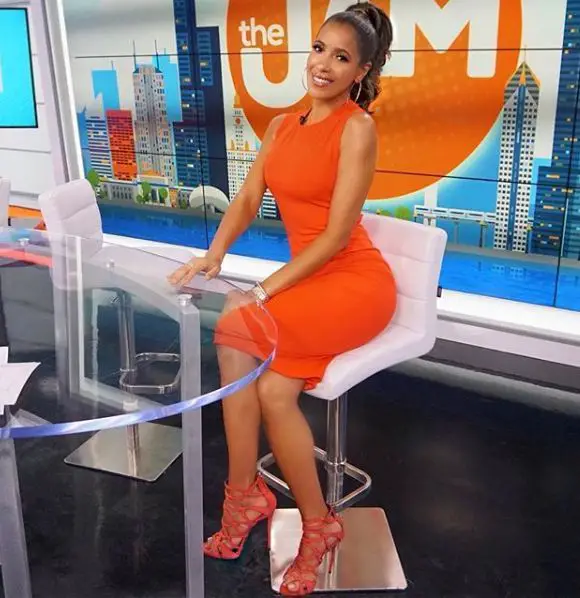 Julissa Bermudez on The set of The Jam Tv show on 9 June 2018 (Photo: Julissa Bermudez's Instagram)
Today she is looking forward to appearing in the Atlanta-based, syndicated entertainment-news show with five-time Olympic gold medalist Sanya Richards-Ross. The show is set to premiere on 4 Nov 2019 and will have an initial five-week run.
The star of many talents is the sole proprietor $600K net worth and many more to come.
Is Julissa Married To Maxwell?
With regards to her dating life, Julissa tried her best to keep her private matters away from the paparazzi. But she couldn't be saved from the prying nature of media when she dated, Grammy Award-nominated R&B artist, Maxwell. They made it public in 2014 as their various photos of spending their time with each other came out. They dated for a while, and it seemed like the relationship was going somewhere. However, the couple ended their alliance on a friendly note.
On 9 June 2018, she talked about still being in touch with her ex-boyfriend, Maxwell. He is still a big part of life, and his friendship means a lot to her despite their romantic history.
Read Also: Jacque Reid Married or Engaged, Husband, Boyfriend, Net Worth, Bio
Julissa is particular about spilling her details in the media. Nonetheless, she talked about her candid-encounter with her ex-fiance (some mystery guy). She was shooting one of her reality TV show in New York, and he happened to be there. Their awkward moments got captured on the frame. But Julissa has no further involvement with him, whatsoever.
Today, she seems happy to be on her own space and enjoying her days of being single.