Without doubts, Julianna Goldman is one of the most accomplished correspondents. According to her bio, she was born on 2nd May 1981 as a daughter of Barbara Goldman and Michael Goldman. Her father is a partner of Silverberg Goldman and Bikoff, a Washington Law firm whereas, her mother was the president of the human resources agency. Her mom still sits on the board of the National Jewish Democratic Council.
Also Read: Stacey Dales Married, Husband, Boyfriend, NFL, Salary
For education, Julianna attended Charles E. Smith Jewish Day School in Rockville, Maryland. Then, she attended Barnard College of Columbia University and graduated with magna cum laude. She later attended Johns Hopkins University and bagged her master's degree in Government with a concentration in National Security Studies.
Julianna Goldman Married, Divorced?
Sometimes, the better thing happens only after a bad experience. And, it is best proved by the personal life scenario of Juliana.
Well, she was first married to MSNBC's Journalist David Shuster. They had tied the wedding knots as husband and wife on 27 May 2007 at the Sixth & Historic Synagogue in Washington D.C. However, their marital voyage couldn't last forever; the duo divorced in 2011.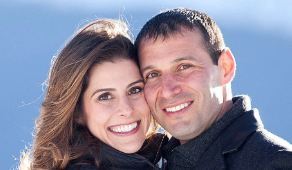 Julianna Goldman with her husband, Micheal Gottlieb (Photo: nytimes.com)
Moving on with the bitter experience, Julianna got into a new relationship with the former associate White House counsel Michael Gottlieb, son of Rita Sloan Gottlieb and David J. Gottlieb. 
They not only remained as boyfriend and girlfriend but exchanged the wedding vows as husband and wife as well: at the age of 33, Julianna married for the second time at the Pine Creek Cookhouse, a restaurant in Aspen Colo on 12 July 2014. Their wedding was supervised by the Supreme Court Justice, Elena Kagan.
Since the marriage, Julianna has kept her personal life totally low-key. However, it has come to the light that she shares two children with her husband. 
Julianna Goldman's Salary
Julianna began her career as a White House correspondent for Bloomberg. She reported extensively on every aspect of the White House including traveling and interviewing the former U.S President, Barack Obama. In the following year, Julianna served as a co-moderator for Bloomberg's first-ever GOP presidential debate.

She proved her worth in the field and embraced her career wholeheartedly. She covered stories including G20, the president's signing of the START Treaty in Prague, his acceptance of the Nobel Prize in Oslo, Financial regulatory reform, a debate over the debt ceiling and efforts to reduce the deficit.
She is, now, working with as a television Correspondent for CBS News in its Washington bureau. At the age of 37, she is relishing her net worth that is enriched by her salary of $102K.