Julia Hatley-Brewer is a prominent name in the field of journalism. She is widely known for presenting and narrating political documentaries for many news channels such as BBC Two, and BBC Four. 
Similar to her professional bliss, Julia shares a budding relationship with her husband in her personal life. Yes, she is married and even has a child from her marriage. 
Julia's Married Life Brings Husband Queries!
Julia has been in a marital relationship for a long time. She even shares the bliss of the kids as in her 11-year-old daughter alongside her husband.
But her married life is kept miles away from the light. Julia has not yet shared the details of her husband regarding his name, age, and profession. Moreover, she has also not revealed the details of her wedding and also the name of her child. 
Nevertheless, Julia cautiously gushes about her family in her social media accounts time and again. 
Also Read: Sally Nugent Married, Husband, Partner, Sister, Family, Salary
Back on 15 April 2018, she disclosed that her 11-year-old daughter had read about Girls Guide and said that the girl guide was meant for girls only. 
She had also mentioned her family in a tweet in January 2018. Via the post, she disclosed that she and her husband had to face problems while canceling their flight from the British Airways. 
Besides, Julia mentioned the fact that she gave her husband a Viennetta for his birthday via a tweet posted on 3 June 2017. She further added that her partner became happy with it as he hailed from Stoke on Trent, a city in Central England.
Furthermore, sarcastically replying to the comment of Stig Abell claiming her 'an evil imperialist US lapdog,' Julia, through her tweet on 5 February 2016, joked that it was also her husband's pet name for her.
The frequent tags of her partner and child in her social media accounts make it clear that her marriage is going strong. 
Julia's Biography
British journalist, Julia Hartley-Brewer was born on 2 May 1968 in Birmingham, England. Her father was a general practitioner, who provided treatments for acute and chronic disease along with healthcare advice.
English Journalists: Louisa James Wiki, Age, Married, Husband, Family, ITV, Ethnicity, Height
Julia attended Oldfield School in Bath, Somerset. Eventually, she enrolled in Woodhouse Sixth Form College located in Finchley, North London. After graduation, she joined Magdalen College in 1988, which was situated in Oxford and an affiliate of University of Oxford.
Julia Hatley-Brewer's Career, Net Worth
With a strong educational background from reputed institutions, Julia started her career in journalism by joining East London Advertiser situated in Bethnal Green.
She later joined as a news reporter and political correspondent at the London Evening Standard and the employed in The Guardian. She worked for The Guardian till September 2000
Afterward, she moved to Sunday Express as a political correspondent. There she was promoted to political editor in 2001. Julia presented and narrated a couple of political documentaries for the television channels BBC Four and BBC Two, where British radio broadcaster and traffic journalist Lynn Bowles served until 29 March 2018. 
She talked about the history of British Deputy Prime Ministers called Every Prime Minister Needs a Wille and another one about the history of the Leader of the Opposition in The Worst Job in Politics.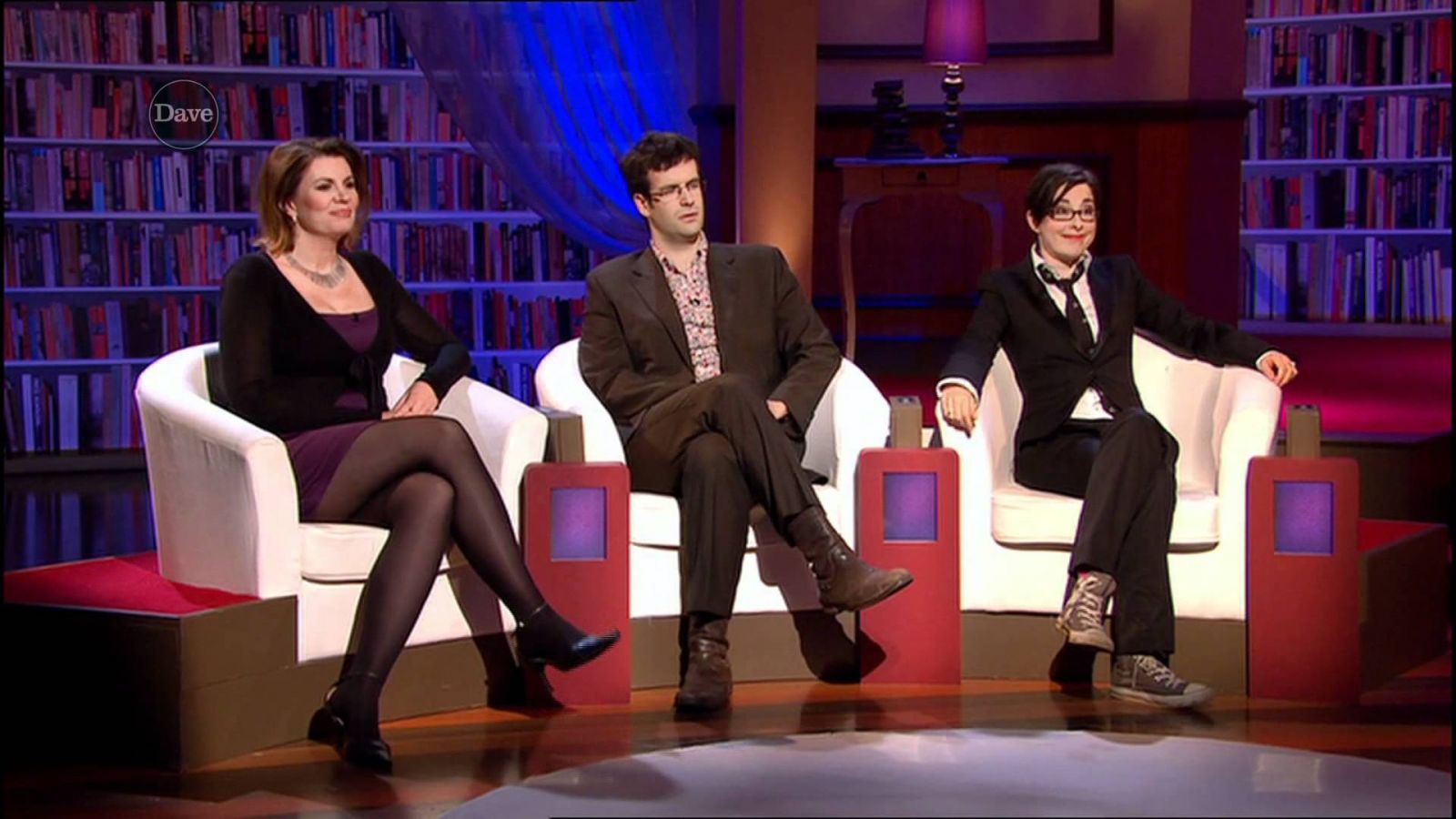 Julia Hartley-Brewer (right) appears in an interview in December 2011 (Photo: YouTube)
Having strong appearance on-screen, Julia supported Britain leaving the European Union during the EU referendum in the year 2016.
Besides, Julia is also active as a host of the radio talks show where she discusses the topics related to some serious as well as entertaining matters.
Julia also loves to flaunt her writing skills as she did flaunt one of her articles related to how the straight actor plays a gay character easily via her Twitter post on 18 August 2018. 
Eventually, in the year 2017, Julia was placed at number 80 in commentator list of Top 100 Most Influential People. With glorious years in her professional life, she earns a handsome salary and amasses an estimated net worth of over $1.1 million.
Julia Hatley-Brewer Banned From The Next Year's Conference
But unfortunately, her career took a turn in Julia's life that caused her banning from Labor party.
According to the mirror.com on 1 October 2018, Julia was accused of posting a five-second video, where she showed herself inside the room of conference center in Liverpool.
You May Find Interesting: Geraint Vincent Wiki, Age, Married, Wife, Partner, Gay, Height, ITV
She also captioned the video stating that if comrades are feeling triggered at the Labor Party conference, the room is a safe place. On top of that, Julia was also accused of mocking people, who are suffering from anxiety disorder for whom the rooms are designed.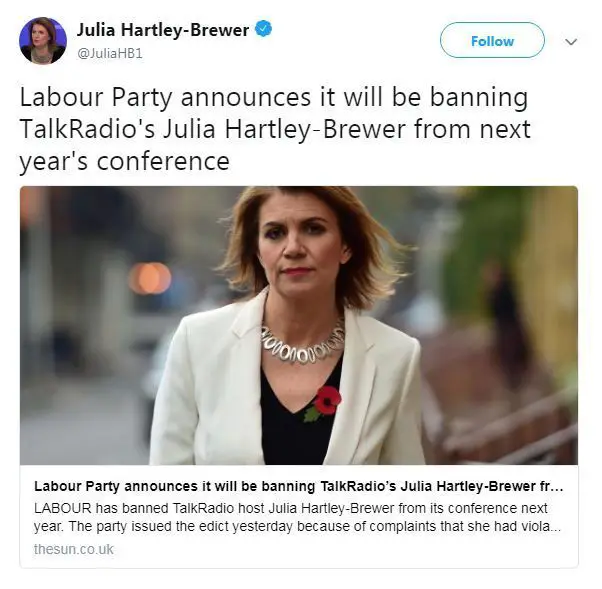 Julia Hartley-Brewer shares her controversy news via Twitter on 1 October 2018 about the incident (Photo: Julia Hartley-Brewer's Instagram)
For the incident, one of the members of Labor party said that Julia has no right in misusing the rooms to mock the disabled people and therefore it has been decided that Julia will not be able to work for the next year as well.