Not everyone can create their aura with their vocals within a short period. Jordan Pruitt is such a fantastic singer and a voice artist who has made a significant impact on the world of voices, in such a short frame of time.
With her works for Disney and further reality appearance, Jordan has named herself in the list of the best vocalists in the industry. Her encouragement has undoubtedly played an impactful role in encouraging many to the path of fearlessness and success.
Jordan Pruitt's Personal Life
Back in 2009, there were reports of Jordan Pruitt dating the famous singer-songwriter, David Archuleta. As both of them were on tour together, the rumored followed everywhere. However, David denied all the rumors and revealed that he was single at the time.
Later in the same year, the reports followed the stories of Jordan dating Nick Jonas, from The Jonas Brothers. Although the two made no revelation on their relationship, some of their past social media posts unveiled that they were dating.
In one of her May 2010 tweets, Jordan replied "Thanks Babe" to Nick's "Happy Birthday" tweet on her birthday. However, it was also evident that the relationship between Jordan and Nick didn't last for long as, during early 2011, Jordan had started dating Chandler Hoffman.
Don't Miss: Perrie Edwards Wiki Reveals: Boyfriend & Dating Status At Age 25
Within some months of dating Chandler, Jordan revealed that Chandler had cheated on her. Many others supported Jordan during the time and reported Chandler Hoffman for being a cheater.
What-so-ever, Jordan's break-up with Chandler somewhere symbolized the end of her relationship with the ones not meant to be hers. March 2013 officially made an entry to that soulmate who was the one meant to be with Jordan for a lifetime. It was non-other than Jordan's then-boyfriend and present husband, Brian Fuente.
Jordan and Brian found the soulmate within one another that helped them to decide their future with each other. Thus, within a year of officially dating, Jordan said "Yes" to Brian's proposal to get married. And, after living a whole year as fiances, Jordan and Brian got married on 24th May 2015.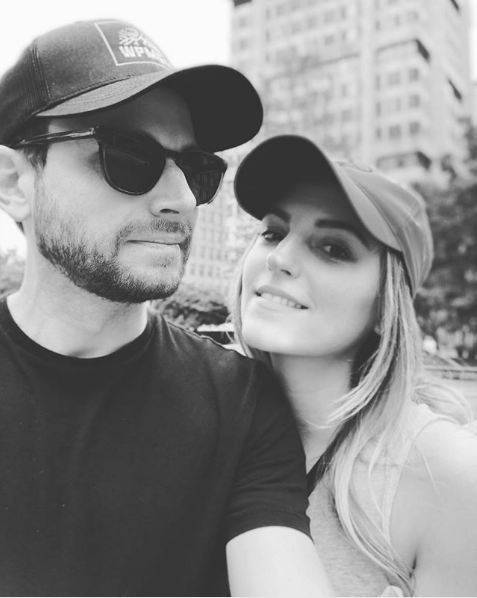 Jordan Pruitt poses with her husband, Brian Fuente in September 2019 (Photo: Jordan Pruitt's Instagram)
To this date of their marriage, Jordan and Brian have been admiring each moment with one another. Their untouched intimacy makes the feeling of true love apparent through their pictures of love.
No doubt, this beautiful couple will develop into a beautiful family within no time-bound to the pure feeling of the endearing relationship.
Bio: Age, Family
The 19th May 1991 born famous pop singer, Jordan Pruitt, is 28 years of age in the time being. She is a Loganville, Georgia native who stands at the height of 5 feet 1 inch (1.55 meters).
Jordan has been quite open about her present personal life. However, not much has the lady revealed about her childhood with her early family. Although Jordan times and again keeps sharing about her parents, she has not opened up on her life with them and their part of roles in her life.
Nevertheless, some of her old tweets reveal the fact that Jordan is very close to both of her parents. She refers to them as the best ones on the planet and loves spending times with them. Her parents must have been a great support to Jordan for her career in music.
Hopefully, Jordan reveals more about her life with them to her curious fans in the coming days.
The Voice Career & Net Worth
Jordan Pruitt gave the blind auditions during the third season of the famous singing reality show, The Voice. Judge Christina Aguilera turned for her and got her a spot on her team.
However, during the battle round, Jordan competed with fellow Adriana Louise and lost the round. The two performed Hot & Cold by Katy Perry, which turned out to be the best for Adriana with coach Christina's decision.
What-so-ever, but Jordan's career glammed to an exceptional level, with just recognition from The Voice. Although she was eliminated from the show very early, Jordan never let any of her talents or skills to go in vain.
Thus, this attitude of Jordan took her to the heights of popularity and grace. No doubt, the same level of dedication has made Jorden the owner of a satisfying amount of property and net worth.