Even amidst raising five children and six grandchildren, journalist John Knicely has not given up in his career. With his escalating age, his skills have only increased alongside his charisma. Working as a reporter for more than forty decades has brought him a Journalism Alumni Award of Excellence and "Face on the Barroom Floor" by the Omaha Press Club. If Journalism was not prestigious enough, John Knicely also served as a teacher at one point in his life.
So, how did John Knicely maintain a balance between his personal and professional life?
John Knicely Wife, Family
John Knicely is one of those few people who treasure love for a long time. He got married to his wife, Sue Knicely on 6 September 1977. The small family slowly became big after the marriage. John and his wife share a total of five children together with a set of twins. The children are Kristen, age 39, John Ryan, age 37, Mitchel, age 33, and, Spencer and Grant, age 29. One of his sons, who shares the same name with John, has surely followed John's footsteps as he is also a TV journalist. 
Peek Into The Life Of: Anaridis Rodriguez Wiki, Age, Married, Husband and Net Worth
With time, John Knicely saw his children grow into adults and waved them goodbye during their wedding. He posted a picture of his son, John Ryan and his wife Melaine in 2013, and another beautiful wedding picture of his son, Mitch with his lover Allie in 2015. John and his wife, Sue are grandparents to six grandchildren today, with the sixth child's arrival on 29 June 2015.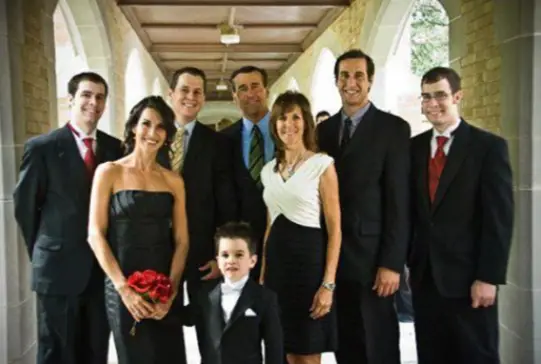 John Knicely attends an event with his wife and family (Photo: John Knicely's Facebook)
John is a family man, and always supporting his family through thicks and thins. He even moved back to Omaha to be closer to his family when he was working at KTVI in St. Louis in the 1980s.
WOWT / Salary
John Knicely has worked with WOWT for an extended period. He joined WOWT as a sportscaster in 1974; he worked there for seven years before finally moving onto a new job at KTVI, the ABC affiliate, in 1981. Just after three years of working in the KTVI in St. Louis, John transferred to KETV in May 1984 to spend more time with his family.
After changing several broadcast channels, John finally realized what he wanted in 1992. Following his heart, he returned to WOWT Channel 6, at the height of his career. This time, he decided to work as an anchor and hosted the 5, 6 and 10 p.m. newscasts.
You May Also Know: Kelly Evans Boyfriend, Dating or Married and Husband
In the programs, he talks about the behind-the-scenes perspective of a reporter. For his active appearance in the WOWT6 for more than three decades, he is provided with a hefty salary of more than $100K per year. John believes that his money should be utilized to help needy people, so he regularly donates a considerable amount to the abused and destitute children.
John Knicely Bio & Age
John Knicely was born on 7 December 1951 according to his bio. He has lived in places like Dallas, Texas and Omaha Nebraska. The anchor belongs to Caucasian ethnicity and follows the religion of Christianity. There is very less information about his siblings and parents; although, he occasionally posts pictures with them on social media. The pictures make it clear that John Knicely manages to spend quality time with his family despite his busy schedule.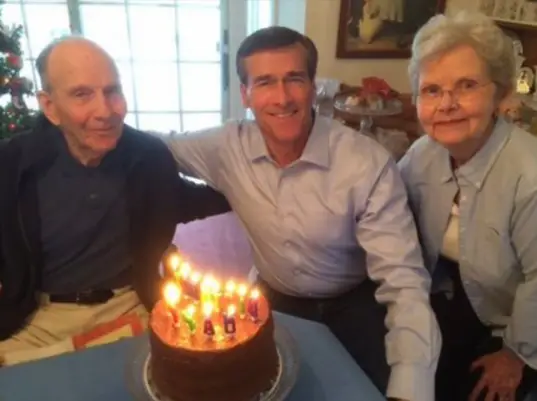 John Knicley celebrates his mother's birthday on 9 December 2013 (Photo: John Knicely's Facebook)
John and his brother, Jim are very grateful to be able to share the companionship of their parents, who are above 90 years of age. John cherishes his parents' presence and loves them to the core.
Talking about his education, he has a degree in Journalism and Mass Communications from the University of Nebraska.