British journalist John Craven, who has been serving in journalism for over fifty years now, is still enjoying his work while relishing his enduring marriage with Marilyn Craven. Apart from giving time to his work, he manages to spend quality time with his family and often goes on a  family vacation for refreshment. 
Craven's Family
The beloved journalist has been married to his doting wife Marilyn Craven for several years, and together they reside in Bicester, Oxfordshire. From their marriage, the duo has two daughters, Emma and Victoria, along with five grandchildren. 
Craven knows how to create memorable moments with his family, and he certainly proved to be a cool grandfather when he took his grandchildren for a vacation to Jamaica as their Christmas present in 2012.
As he described it to the Dailymail, the journalist and his wife and three grandchildren, Jessica, Charlie, and Will, had an amazing vacation under the tropical skies of Jamaica. 
While at the vacation resort, the family was taken care of by their own butler, Conard, who helped them with all their necessities throughout the vacation, and even became the kid's favorite. The vacation adventures included snorkeling, visiting Rose Hall, and horse ride in the sea.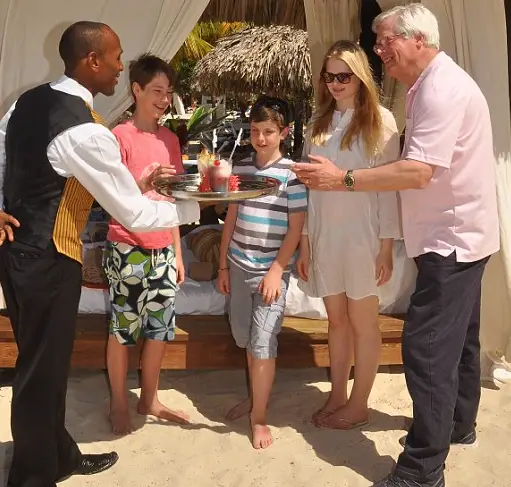 Craven, along with his grandchildren at the cation resort in Jamaica. (Source: Dailymail)
Craven's Enduring Career With BBC and His Net Worth
Craven began his career as a Harrogate Advertiser's junior reporter and later appeared on the tv screen as a children's talk show presenter. 
In 1972, the journalist made history as a presenter of BBC's first-ever children news program, John Craven's Newsround. His simplistic articulation, aiming for the children's better understanding, made the show going for several years. 
He bid his farewell to the show in 1989 and began presenting Countryfile, which has been running on its thirteenth season. The show presents a wide range of rural farming stories and any issues affecting the countrysides. 
From his years-long service in journalism, the 80-year-old is estimated to have amassed a net worth of 2.8 million pounds.
Awards and Honours
Craven's dedication to journalism has been recognized from the start, leading him to be elected by the Royal Television Society as a member. The RTS awarded him Baird Medal in 2002.  
Likewise, in 2000 the journalist received one of England's prestigious awards, OBE,  Order of the British Empire, for his service in broadcasting. Furthermore, in 2011, he earned a fellowship in the Linnean Society of London and received a Special Award by the British Academy Children's Awards for his BBC show Newsround.