Joe Lunardi is an ESPN Bracketologist plus a college basketball analyst. He came into the limelight after creating Bracketology and hosting the show The Bracketology Show on ESPN. He is also the former co-host of Phil Martelli's show named HawkTalk.
Besides, he served as a color analyst of the Saint Joseph's Sports Network. He worked as an associate vice president at Saint Joseph's for three years before being promoted to the post as the vice president for marketing and communications in 2015. 
What Is Bracketology?
Bracketology is a process that predicts the field of a college basketball participant in the NCAA Basketball Tournament.
A TV Host Plus Journalist: Roger Bennett Wiki Reveals Married Life With Wife
It also includes the methods of foretelling the champions of each of the brackets. In recent years, the theory of bracketology has also been practiced in fields other than basketball.
As per Joe Lunardi, he recalls Bracketology as the art and science of forecasting teams, which will be chosen in the annual NCAA Men's Basketball Tournament.
Origin Of Bracketology
Joe Lunardi first founded the term 'Bracketology' and its concept. The term came into his mind in the winter of 1993 while he was stuck in his house, in Philadelphia, due to a storm. 
At that time, he used his spare time sitting with the Sagarin ratings and RPI ratings, trying to estimate out how the predictions would result. Later, in 1995, he was handed the job to publish a pre-season guide for Blue Ribbon Yearbook in approximately 36 hours.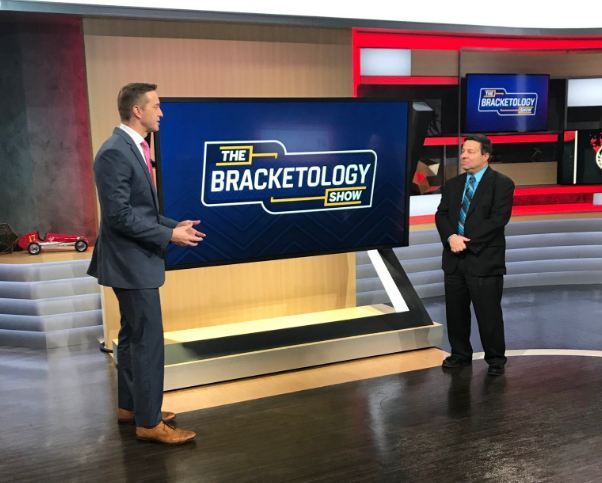 Joe Lunardi hosting The Bracketology Show with Sean Farnham on 14 February 2020 (Photo: Joe Lunardi's Twitter)
Joe and his other helpers work hours in a day to figure out a way not to have 100 teams written and get it down to 70 to 75. Eventually, he managed to figure it out, and the concept of Bracketology was originated. After that, he began to project the bracket, and ESPN.com implemented his theory.
A Talented Chef: 'Top Chef' Kristen Kish Wiki & Personal Life Insight
Since then, he has made thousands of predictions; however, his most successful predictions came in 2008 when he foretold all of the 65 teams to appear in the 2008 NCAA Tournament.
Bio
Joe Lunardi was born and raised in Philadelphia, Pennsylvania. For his education, he attended Saint Joseph's Preparatory School and Damien High School. Also, he is an honorary graduate of Saint Joseph's University.
Some Interesting Facts About Joe Lunardi
He celebrates his birthday on the 19th of September every year.

He is married to a fellow Saint Joseph's University graduate, Pam. He has two daughters, Emily and Elizabeth.

He is a hibernating golfer.

In his career, he has covered more than 1,000 Hawk games.

For dedication and loyalty to the Saint Joseph's University (SJU) men's basketball program, he has twice been awarded the William J. Bennett Award, in 1995 and 2004 respectively.