Jim Sciutto is popularly known as the only American journalist, who covered US forces live during Iraq invasion, who reported from inside Myanmar during the government crackdown in fall 2007, and who covered Zimbabwe election crisis in 2008. His good looks and perfect height of 6 feet and 1 inch (1.85m) has always been the plus point.
Well, he was born with American nationality on 10 March 1970 as James Ernest Sciutto. He hasn't opened much about his parents but has made a condolence post for his father on 7th December 2017.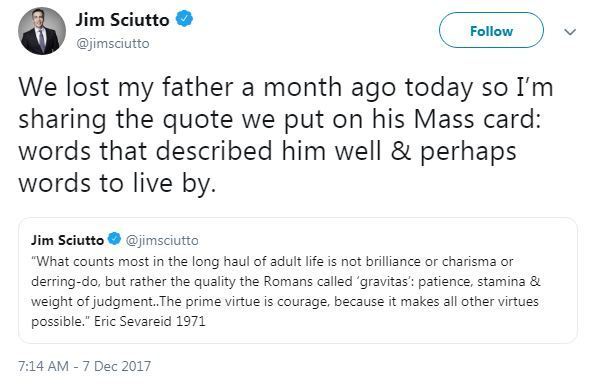 Jim Scuitto commemorates his deceased father in 7th December 2017 (Photo: Jim Sciutto's twitter)
The author of the famous book, Against Us: The New Face of America's Enemies in the Muslim World, completed his high school education from Regis High School. He got his university degree majoring in the Chinese history from Yale University.
Keep Reading: CNN's Caroline Polisi Bio: Married At Age 36? Husband, Parents
In his productive journalism career that spans more than two decades, he has traveled to more than 50 countries in Europe, Africa, Asia, Latin America, and the middle east, including Iraq, Afghanistan, and Iran to cover stories. He could even serve as an American diplomat (Chief Of Staff, 2011 - 2013) for then-US Ambassador Locke in Beijing. 
Jim Scuitto CNN, ABC
As the Chief National Security Correspondent, Jim Sciutto specializes in reporting about all the forte of national security, including foreign policy, the military, terrorism, and the intelligence community. His zeal towards country's security has helped him win many awards such as 'Edward R.Murrow Award' in 2009, 'Emmy Award' for two years in 2004 and 2005, and George Polk Award in 2007. 
Scuitto stepped in the television filed as the moderator and the producer of a Public Broadcasting services program, The Student Press, a weekly public affairs talk show aimed at college students. Later, from different places like Chima, Laos, Singapore, he covered many stories as the Hong Kong Correspondent for the Asia Business News. During his time working with Asia Business News, he also covered the return of Hong Kong to China in 1997.
In 1998, he got a chance to be associated with ABC News, where he was promoted to Senior Foreign Correspondent because of his coverage of US's Iraq invasion. He was the only American Journalist included with U.S special force to report about the situation. He eventually joined CNN in 2013. He has also been co-anchoring CNN Newsroom alongside Poppy Harlow since 2018. 
Is Jim Scuitto Married, Who's His Wife?
Ten years of marriage looks like Jim is a one-woman man and hasn't linked to any other women. He met Gloria Riviera, who is at present ABC News correspondent based in Washington D.C., during the television broadcasting and started dating. They later tied the knot on 27 October 2006.
The couple has three children; son Tristan, son Caden (home delivered by dad Jim in London), and one daughter. 
Jim Scuitto's Salary/Net Worth
With good money in the bank and happy wife by his side, Scutto has maintained a safe distance from various rumors and kept himself away from scandals and controversies. He is a wealthy man. He has worked as an American journalist for so many years that his experience rewards him well at present. As of now, his reported net worth is $10 million, He presently earns a six-figure salary as the chief national security correspondent for CNN.