The way Jesse Lee Peterson has established himself as a successful media personality, undoubetedly influences newcomers. Whether it be for his impeccable political involvement or flaunting his media skills as the host of a self-titled radio show, Jesse never fails to amuse the public.
Jesse Lee Peterson has intrigued most of his fans and followers with his astounding views on political and social matters. Besides his professional success, Jesse is enjoying his single life with a sole focus on his versatile career as an activist and acclaimed author.    
Gushes On Sex Before Marriage, Single Or Married?
The famous American author made a statement concerning married life on 17 April 2017. 
While talking to the RightwingWatch, Jesse stated that any man, who prefers sex before marriage would cheat his wife. He explained his views as,
she is not the only one he's having sex with. Now, he will lie to her and pretend that he is [being faithful], but he is not …
Also, Jesse aware all women and said, 
For the ladies, I want them to know. So, that they stop having sex with men that want to have sex with them prior to marriage; I want the ladies to know that if your man, your fiancé is having sex with you prior to marriage, he's doing it while you're dating, he's doing it while you're engaged and he will do it afterward.
Besides his thoughts on marriage, Jesse shared a contempt statement on women with the Fox News on 8 May 2012. 
He stated that women should have never given rights to cast a vote. He also made remarks on how women are dragging country towards the ruin.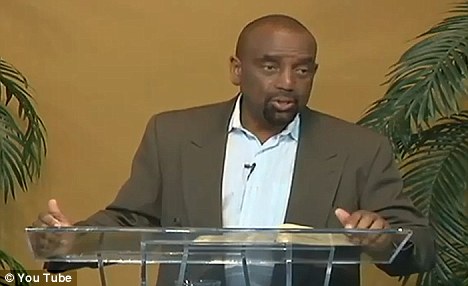 Jesse Lee remarks on how women are dragging country towards ruin during an interview with Fox News on 8 May 2012 (Photo: Dailymail.com)
Moreover, on 16 December 2016, the conservative activist shared his views on the gay community with the Fox News. Talking with the Virginia radio host Rob Schilling,  Jesse stated that the "evil lesbian, gay, bisexual and transgender (LGBT) rights are destroying America."
He also made another statement while talking on CnsNews on 20 June 2017. Jesse said that the people, who celebrate LGBT on June as pride month are defrauded, and told that they are celebrating sin while being the children's of the devil.
Furthermore, Jesse was spotted giving his view on racism matter stating that the inequality in colors doesn't exist and has never existed. Speaking to CRTV on May 2018, he mentioned that back in time all white people were not against the black people, they just obeyed the law at that time.  
Although Jesse can be seen giving ideas on being married and gushing about gay-related topics, he remains single in real life. 
Being single in his life, Jesse is an alone warrior, who is shaping his road towards supremacy by his views and notions from, where garnishes millions of followers. Perhaps, he is yet to find a perfect person to quote as a wife. 
Jesse Peterson's Bio: Career As Activist And Media Personality
Jesse Lee Peterson was born on 22 May 1949, in Midway, Alabama, US.
His family raised him in Comer Hill, Alabama, but his father and mother separated and started their families of own. Jesse stayed in Comer Hill with his grandparents, who worked on the plantation. Jesse lived with his mother and stepfather in Gary as a teenager and then moved to Los Angeles. 
In 1991, he founded a nonprofit religious group, Brother Of New Destiny (BOND) which dedicate to "Rebuilding the Family by Rebuilding the Man." He focused on black young men like himself, as he intends to unite the races and his vision of racial equality.
Jesse started counseling people, dealing with emotions and personal problems from going to schools, universities, churches, prisons and even jails. Then after some decades, he successfully helped the people of all races all across America with his recognition of BOND. Also, a member of the African-American organization Choose Black America, he works to oppose illegal migration to the United States.
Jesse also serves on the national advisory board of Accuracy in Media. Besides, he is a former board member of the California Christian Coalition, an organization created in 1989 by religious broadcasters and former presidential candidate Marion Gordon Robertson.  
Adding more to his political participation, he established an annual 'National Day of Repudiation of Jesse Jackson' event, which lasted from 1999 to 2004.
Besides his involvement in politics, he is also a TV talk show and radio host. He is also famous for speaker, author, columnist, and counselor. He has written many books including The Seven Guaranteed Steps to Spiritual, Family and Financial Success (2007), From Rage to Responsibility (2000), SCAM: How the Black Leadership Exploits Black America (2005) and the Antidote (2015).
Read also: Robert Morris Bio: Details On Family & Married Life Of The Blessed Life Author
Jesse has summoned a great height for his versatile career. The veteran media personality is busy flaunting his media skills hosting the self-titled national radio show, The Jesse Lee Peterson Show, which airs on NewsmaxTV.  
Though his involvement in various sectors, Jesse's exact salary is yet to be disclosed. Working on multiple organizations and with his political involvement, it is safe to say that he has secured himself a quite amount of net worth.