Covering a war infected battlefield is hard but fighting with Stage 3 cancer is even harder. Well, Jennifer Griffin has accomplished both of these near possible feats.
Currently working as the FOX News reporter, she covered the war for 15 years in foreign countries and defeated the Stage 3 breast cancer after she was diagnosed with it in late 2009. She is stationed at Pentagon as National Security Correspondent.
Working in numerous newspapers as a reporter, Jennifer covered events having historical importance like the release of Nelson Mandela from prison in 1990.
She worked in such prestigious organizations as Associated Press before joining Fox.
Since 2007, Jennifer has been reporting daily from Pentagon doing interviews with senior military leaders, going to war zones and covering other military aspects including war with ISIS and Al Qaida.
She also covers extensively the relation between North Korea and the United States.
Jennifer Griffin's Marriage:
She has been happily married to Greg Myre, her husband, since October 1994.
Also Know About: Jeremy Reiner [WHDH] Wiki, Age, Married Status
They had been dating for a long time before they tied the knot and are now the proud parents of three beautiful children.
She gave birth two daughters Annalise Myre and Amelia Myre and the youngest, a son named Luke Myre, who was born in September 2009.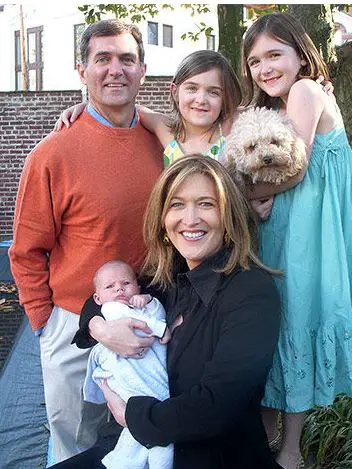 Jennifer Griffin with her husband and children (Photo: parents.com)
It was when nursing her son Luke in September 2009 that Jennifer found a 'lump' that was later confirmed to be Stage 3 breast cancer.
Her Husband
Her husband Greg Myre is a national security correspondent with a focus on the intelligence community.
His position follows his many years as a foreign correspondent covering conflicts around the globe.
Following his journey as national security, he previously worked as the international editor for NPR.org working closely with NPR correspondents abroad and national security reporters in Washington.
Greg also worked as a senior editor at Morning Edition from 2008 to 2011.
Prior to that, Greg has also served as a foreign correspondent for 20 years with The New York Times and The Associated Press. 
Jennifer Griffin's Victory Over Breast Cancer!
Being diagnosed with cancer itself is scary stuff let alone being diagnosed with the third stage of breast cancer.
Jennifer was well aware that cancer runs through her gene as her mother and grandmother were both diagnosed with breast cancer.
To keep her health at the check, she regularly had mammograms. However, she couldn't get screened while she was nursing her youngest son, Luke.
And when she discovered the lump in her breast, it already reached the alarming stage 3. After the diagnosis, she found that she had a rare Stage III Triple-Negative Breast Cancer.
She began an uphill journey from the next day of diagnosis and hired an oncologist. She then took chemotherapy and changed her diet to make her ready for the painful months of chemo.
Regular exercise and organic diet with months of Chemotherapy she finally recovered from cancer. Talking about the painful experience, she said:
 Today, I wear my scars with pride. My hair was long and blonde when I started and now it's short and spiky silver—and I walk with my head held high and feel more beautiful than ever. 
Yes, she not only came out victorious but also inspired a lot of people to fight for their lives.
Don't Miss: Shayna Seymour Husband, Children, Family, Ethnicity
She is fortunate to have a loving husband by her side when she was through this whole experience. The couple is together for more than two decades now and has a beautiful relationship while the issue of divorce never crossed their paths.
Jennifer Griffin's Short Bio
Jennifer is an American having graduated from Harvard University. She was born on April 20, 1969, and is 50 years of age.
Her parents Carolyn J. Griffin and John W. Griffin, both from Alexandria, Virginia were the inspiration when she was growing up.
Her mother was a Producing Director of Metrostage, one of the theaters in Alexandria whereas her father was a partner in Dickstein, Shapiro & Morin, a law firm in Washington.
As far as her physics is concerned, she is tall in height, slim and healthy.
The veteran FOX News Reporter worked 15 long years covering wars overseas which reflects that she is highly professional and accomplishes her job with perfection.
Given her experience and ability, she surely banks in handsome salary from FOX News which is yet to be revealed.