The journalist, known for being uninhibited about commenting and landing on many troubles afterward, has made Jason Whitlock one of the most controversial sports journalists out there. He currently works for Fox Sports 1, co-hosting the daily show, Speak For Yourself with the fellow journalist, Colin Cowherd.
Having worked for such media heavyweights like; ESPN, AOL Sports, and Kansas City Star, Jason is a media personality having a wide range of experience being a columnist, a writer and a TV hosts of some of the most popular shows. Besides his professional success, Jason has always stayed a hard yard away from the relationship and dating stuff. 
Jason Whitlock: Man With Many Off-Screen Controversies!
A man known for creating controversies in work, Jason Whitlock isn't far from being one in his personal life too. Though still unmarried, he was once asked on the radio show to get married to which, he said that, people who enjoy success in work are not married. 
He went on to defend the unmarried man because he thinks with all the free time a man has from not having a wife and kids would give him more time to dedicate to work. Regarding the topic, Jason quoted,
"I think it's an advantage in my career. I have more time to think than my competitors. So I tell people all the time. It's not that I am smarter than anybody I just got more time to think while you are thinking about your life and kids."
As always Jason lands up on controversies upon controversies and adding up one more was no surprise. Some years back, he said that number one topic among African-American sports fans was not sports but rather a white woman.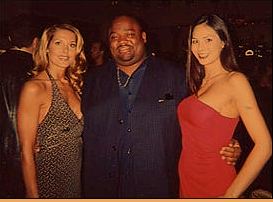 James Whitlock seems quite a Casanova during his Young Days. (Photo Credit: Dead Spin)
For a man who is unmarried and is regularly seen with women besides his own race, this sure rustled some feathers among his fans and listeners. He even went on to give an example of Kyrie Irving, partying with white women in a yacht during one of the celebrations, where Jason said that the champion basket-baller should have kept a low profile in such situations. Maybe it should start with him getting married to a black woman.
Jason Whitlock's Bio:
Jason Whitlock was born on 27 April 1967, in Indianapolis, Indiana, to his parents, James "Jimmy" Whitlock (father) and Joyce Whitlock (mother). The 51-years-old veteran sports journalist comes from an African- American family and has a brother named James Whitlock II but no any sister.
Jason had to go through a major family problem at his young age. His parents got divorced after eight years of togetherness as his father was more into gambling than settling down with the family. Despite the early betrayal from his father, Jason always took him as his biggest inspiration. Back in 2013, when his father passed away nearing the age of 77, Jason mentioned the good and bad days with his dad in the Fox Sports' article.
After graduating from Ball State University with a degree in journalism in 1990, Jason initiated his career as a part-time reporter for The Herald-Times before moving to The Charlotte Observer as a full-time worker. Besides, he also had his stint on Kansas City Star from 1994 to 2010.
Meanwhile, Whitlock worked as a columnist for ESPN starting from 2002. However, he left the network in 2006 and joined AOL Sports. Subsequently, Jason spent some time at FOX Sports before returning to ESPN in the year 2012.  
Jason currently serves as the co-host of daily sports TV show Speak For Yourself on Fox Sports 1. For his astounding efforts as a sports broadcaster, Whitlock amasses a riveting salary of $2 million. Besides, his net worth dwells above $10 million.