Jasmin Savoy Brown is an American actress best known for playing 'Evangeline "Evie" Murphy' on HBO's critically acclaimed drama series The Leftovers (2015—2017). After appearing recurrently in its second season, she got promoted to series regular for the third and final season.
She last appeared as a lead in the ABC's legal drama series, For The People (2018—2019).
Jasmin Savoy Brown's Bio: Age / Birthday, Parents
Jasmin was born on the 21st of March 1994 in Alameda, California. She grew up as an only child and was raised by a single mother in Springfield, Oregon.
Worked The Leftovers With Actor: Meet Jovan Adepo & Know His Parents, Ethnicity & Nationality Details
Back in April 2017, Jasmine tweeted that it was the "dad issues" that led her to become an actor.
During an interview with Out in March 2019, she said that acting was all she ever wanted to do for as long as she can remember. When she was eight, she came across a traveling production of The Music Man. Looking at them- onstage- she was mesmerized- "OK, this is what people do for a living," and hence she was convinced of doing the same.
Coming Out A Lesbian?
Jasmin never really came out. She just started sharing the pictures with her girlfriend on social media. Later, she confirmed with OUT in March 2019 that she took the risk, knowing all the while that the truth would even affect her career, especially when working with the "homophobic" people from the industry.
All the same, she gave her insight that being comfortable in her skin, and being true to herself is the most important thing, and this she would not exchange for anything else.
Dating / Married?
Jasmin has been dating a woman named Camille Killion since 6 November 2015.
Camille, according to her Linkedin bio, is into acting, screenwriting, and film production. The last report of her career was working as an office production assistant in HBO's The Leftovers from June 2015 to June 2016.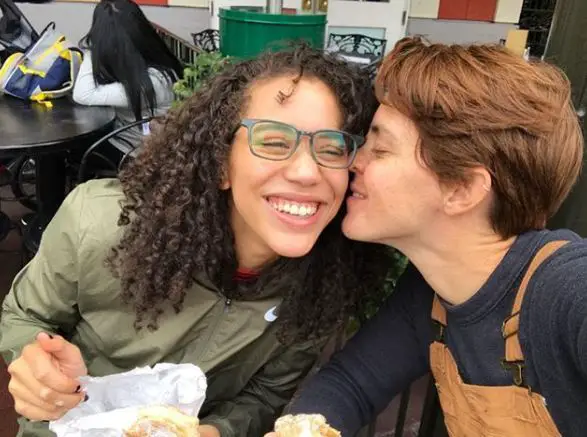 Jasmin Savoy Brown and her partner, Camille Killion on 20 June 2019 (Photo: Jasmin Savoy's Instagram)
Working on the very project, Jasmin and Camille had their "love-at-first-sight" meeting.
Also, Born In The 1990s: Nell Hudson Dating Life With Boyfriend, Also Her Bio & Movies
As a part of Camille's job, she had to pick Jasmin up at the airport and drive her to a hotel in Downtown Austin. Caught during traffic hours, they ended up talking about almost everything: music, documentaries, and life.
Soon, things took onto the next level after they had their "perfect first date" in Downtown Austin.
Interesting Facts On Jasmin Savoy
She found her passion for acting after her first-ever role in the church musical when she was only four.

She stands at a height of 5 feet and 7½ inches (1.71 meters).

She is extremely passionate about supporting LGBTQ rights and women's rights movements. Also, she strongly believes that women's health should be taken seriously.

She has endometriosis, a medical condition that prevails in 1out of 10 women.