Jamie Durie is a qualified horticulturalist best known for hosting the Australian lifestyle program, The Outdoor Room. He is also the landscape designer and the founder and director of the international award-winning company PATIO Landscape Architecture & Design.
Besides that, he is the best-selling author. Undoubtedly, one of Australia's most recognizable talents, Jamie has received several Australian TV Logie Awards, including Most Popular New Male Talent Awards.
He was also in the 2001 Queen's New Years Honours list as the recipient of Australian Centenary Medal for his services to Australian society and Australian television.
Jamie Durie's Bio
48-year-old Jamie was born on 3 June 1970 in Australia. He spent most of his childhood in the mining town of Tom Price in north Western Australia.
Growing up in a naturally blessed hometown, Jamie got a deep connection with nature. The beautiful Australian landscape, his lifestyle based on Sri Lankan heritage, and his passion for Eastern culture ultimately inspired Jamie to create amazing outdoor living spaces.
So, he formalized his passion by studying horticulture in Sydney. 
His Career
After completing four years of study in horticulture and design, Jamie founded the landscape design company PATIO Landscape Architecture and Design in the year 1998. But in 2010, the name PATIO was renamed to Durie Design.
Read Also: Iman Rappetti Married, Husband, Kids, Ethnicity, Bio, Age
Apart from being an entrepreneur, Jamie is also the author of eleven books including Jamie Durie's The Outdoor Room, 100 Gardens, Outside, Inspired, Outdoor Kids, The Source Book Editions 1 and 2, The Outdoor Room and Patio.
Besides, the multi-talented Jamie has hosted many of Australia's top-rating television programs, including The Outdoor Room, Australia's Best Backyards, Backyard Blitz.
Not only that, but Jamie also hosts America's longest running gardening program, The Victory Garden that airs on PBS.
Jamie's Family: Grandmom Is Sri Lanka Native
Jamie was born to Dave and Joy. However, his parents divorced when he was just ten years old. After the separation, Jamie and his older brother, Chris were parented by their mother in the Gold Coast at their maternal grandparents home.
Jamie's maternal grandmother is the native of Sri Lanka. She had met her English husband in the air force during the war and moved with him to Australia in the 1950s. Jamie grew up with his brother in the shade of Sri-lankan heritage while baking and gardening with grandmom. 
As of now, his brother is married and has two kids. His mother resides in Cairns to be closer with Chris and his family. She also grows sixty different types of fruits and vegetables in her backyard and takes in the local kids after school to teach them about growing a veggie garden. 
Moreover, she keeps herself busy by doing things like sewing, baking, bushwalking, and charity work for hospitals.
Jamie Found His Perfect Wife Or Still On Search?
Jamie has a long list of dating history. 
His first publicized relationship was with his Las Vegas native Michelle. The duo first met with each other at the age of 18. After two years of a dating relationship, his girlfriend gave birth to their daughter, Taylor Durie, who is now 22 years of age.
However, the relationship between Jamie and Michelle did not last long as they parted their ways. Nevertheless, Jamie shares a great bond with his daughter, Taylor. Taylor is also following her father's footstep to become a floral designer. 
Don't Miss: Mavournee Hazel Wiki, Age, Height, Boyfriend, Dating, Parents, Ethnicity
Immediately after the breakup with Michelle, Jamie dated Television presenter, Terasa Livingstone in 1997. Later, the duo got engaged, but their relationship also collapsed without specifying any reasons.
While in 2004, Jamie had an affair with jewelry designer, Siobhan Waym, which eventually led to their engagement. However, the relationship also went south.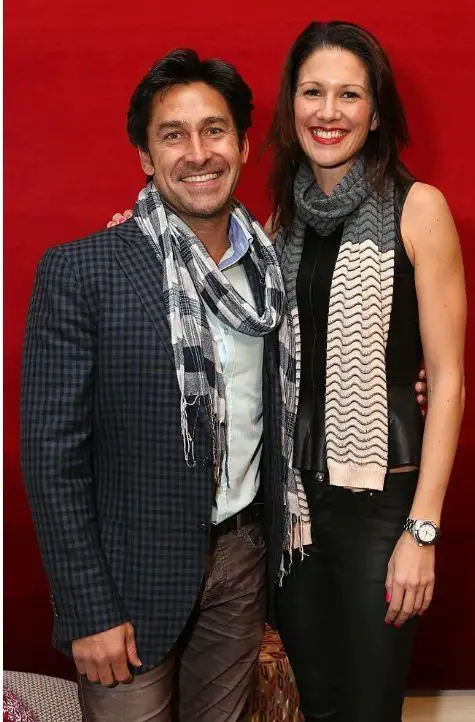 Jamie Durie split with his fiance Lisa Christie.????? after she discovered messages from two other women in his phone (Photo: dailytelegraph.com)
From 2011 to 2014, Jamie was dating the top designer and his third almost-wife, Lisa Christie. Their affair ended after Lisa discovered flirty messages on her fiance's phone.
After the split, he moved on his life and met SBS Dateline presenter and mother of one, Anjali Roa at the Spring Racing Carnival in Melbourne in 2014. Their relationship only lasted a year. 
While in 2015, Jamie reportedly dated 34-year-old, Natasha Kewal. They were first spotted together in May 2015 after Jamie returned from a trip to the US. But, no evidence to support their fling later surfaced out.
You Might Like: Camila Banus Married, Husband, Boyfriend, Dating, Bio, Net Worth
Since then, Jamie has not been spotted with any women. 
Interestingly, in an interview with smh.com, Jamie revealed that he has been married to his career, but he also added he is planning to get married soon and have at least two kids in his life. 
Though Jamie disclosed plans on having a family, it is not sure if he has found any women to make his wife. The only thing that remains clear is that Jamie is nowhere near to being gay despite his fans speculate him to be gay due to his failed relationships.