American journalist Jake Turx is the senior White House correspondent and chief political correspondent for the magazine Ami. He received international media coverage after questioning President Donald Trump regarding anti-Semitism during a press conference. He was insulted by Donald Trump but for him, a mild-mannered journalist, the incident was a turning point in his career.
Know About: Washington Post's David Fahrenthold Bio: Wife, Family, Salary..
The video of the event went viral and Jake, who is the senior White House correspondent and chief political correspondent for Ami, the Jewish Magazine, became famous briefly with the media.
Jake Turx is also the first Hasidic Jew to become a member of the White House press corps. Jake's real name is Abraham Jacob Terkeltaub, but people know him by Jake Turx, and he uses Turx as a pen name while writing for his journalistic works.
Jake Turx The Family Man
We know Jake Turx quite well because of the incident that took place on February 16, 2017, in the White House Press Conference. However, what did not go viral is his family tragedy. He is a married man and resides with his family in Lakewood, New Jersey. He does not talk much about his married life but often tweets regarding his wife. He is a father of three children two daughters and one son. Unfortunately, his son died around 2016, but he has not revealed the reason behind his son's death.

Jake Turx tweets about his wife on 11 July 2017 (Photo: Jake Turx Twitter)
During the White House partake in a press briefing he took his two daughters His one of the daughter asked press secretary Sarah Huckabee Sanders the question;
After President Trump makes America great again, what job will there be for future presidents?
Which was quite a significant question but the statement was his idea presented through his daughter. Because the details hint at his marital status, he perhaps is not gay or is having any affairs because he often talks about his loving family.
Jake's Infamous Incident with President Trump
Jake was relatively an unknown reporter until he shot to fame after the incident on February 16, 2017. The question Jake put up about the spike in anti-Semitism in America, quickly made the headlines in the media after president Trump called him a 'liar.'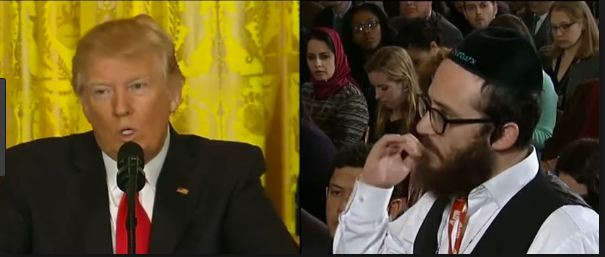 Jake Turx During  President Trump's Press Briefing on 17 February 2017. (Photo Credit: United With Israel) 
President Trump, who was having his first solo press briefing after his election as a president, cut him off in the middle of the question and asked him to sit down. Jake still thinks the president didn't quite fully understand the issue, but the Jewish community and the press thought it was done to embarrass him and duck the question.
Jake Turx Brief Bio & Real Name
Jake Turx Brief was born on 11 August 1986 with the real name Abraham Jacob Terkeltaub. Among the eleven siblings, he was the eldest, and all grew up in Borough Park, Brooklyn. Jake belongs to mixed ethnicity where his mother is American, and Dad is Brazilian. Later he alongside his family moved to Los Angeles, California. 
Take A Time To Read: What Is Emily Pritchard [KMOV] Age? Bio Reveals Married, Family
When he was the child, he studied Yeshiva Bnei Tzion of Bobov and later attended the Cheder of a Los Angeles elementary school. For higher education, he joined Hamesivta of Los Angeles and the Telshe Yeshiva of Chicago. Informally he studies at Columbia University Graduate School of Journalism in New York. He can speak three different languages English, Yiddish, and Hebrew fluently.