Jackie DeAngelis is a well-known TV personality who is currently working as a financial correspondent for CNBC News Channel. She is also the host of CNBC's online show Futures Now.
Besides her career, when it comes to revealing information regarding her private life, Jackie DeAngelis who has amazed many of us by her outstanding personality has maintained privacy in her personal life.
Jackie's Short Bio, Career, Salary
Jackie DeAngelis, whose age is still a mystery, celebrates her birthday on 18th July. Jackie graduated Cum Laude from Cornell University with a degree of Bachelor of Arts in Asian studies and history and also holds a Juris Doctorate from Rutgers School of Law as per wiki.
Jackie, who speaks Mandarin and Farsi, began her career as a technology analyst at Oaktree Capital Management where she had to identify markets opportunities for new investors.
In the year 2008, she started working for CNBC as the director of Strategic Programming and Development. She also presents business-related stories for MSNBC and NBC's Today and has also anchored CNBC's global business news program Worldwide Exchange.
Jackie covered market activity in the Middle East for CNBC's international broadcast from 2010 to 2011. She took interviewed of many influential government officials and business leaders.
Jackie also reported live from the floor of the New York Mercantile Exchange from 2013 to 2016. Jackie has also interviewed energy industry leaders like the CEOs of Fortune 500 energy companies and the Secretary General of OPEC and.
In the year 2017, Jackie followed the Trump Administration's pro-energy policies and its America First Energy Plan, covering a range of stories from natural gas, to pipelines, to coal and their impact on raw commodity and stock prices.
Currently, she is a Correspondent of CNBC and also the host of CNBC's online show "Futures Now." 
Being a Correspondent for CNBC, she does have good earnings and salary, but the detail information regarding her net worth has not been public yet. Talking about the average salary of a Correspondent at CNBC, it ranges from $108,497 at the 25th percentile to $125,465 at the 75th percentile, with top earners (the top 10%) earning more than $133,942.
Jackie has a very slim body with short dark brown hair. Though the information about her height is nowhere to be found but looking at her photo, it looks like she has a tall height which suits her body figure perfectly.
Jackie DeAngelis' Low-Key Love Life!
Since Jackie is quite secretive, she likes to take her private matters away from media. She does not usually speak of getting married or about her family in front of the public.

Well, she is a well-known personality many men would love to know about her marital status. Similarly, one of her fans tweeted her asking her whether she is married or not?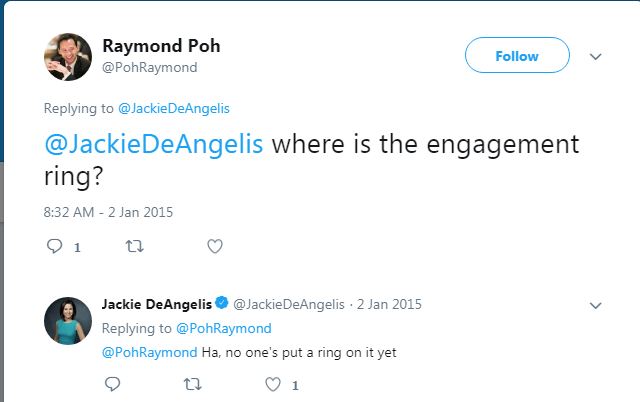 Likewise, a man having the username @JackieDeAngelis tweeted him asking where is the engagement ring? In response to the tweet, she replied there is no one to put a ring on her finger.
The above tweet hints that she is leading a single life and has not been married yet.