Isobel Yeung is an award-winning correspondent and a producer for HBO series, VICE. Much enthusiastic about journalism from the young age, she worked in China, reporting and developing shows for several Asian and English TV channels. There, she also wrote for notable international publications including The Guardian, The Telegraph, The Independent and South China Morning Post.
After serving in China for four years, Isobel heightened her career by landing a contributional service on HBO's VICE News Tonight alongside Candian journalist Shane Smith. At Vice, Isobel was the first foreign correspondent to get involved with coastguards in Libya's migrant smuggling epicenter and interview those who were arrested. She even traveled to Uganda to meet some of the anti-gay leaders, teaching intolerance to Uganda's youth and uncovering disturbing ties between their message and lessons that American fundamentalists had been pushing for years. 
Interesting: Liz Hernandez Married, Husband, Boyfriend, Bio, Age, Net Worth
For her revolutionary news coverage on VICE, she got nominated for an Emmy award. She also won a Gracie and Front Page award for elevating Afghan women's rights struggles that fell out of the headlines.
Isobel Yeung Married, Husband
Isobel Yeung is a stranger to the tag, 'single' as she is happily dating her boyfriend, Benjamin Zand. Benjamin is a British-Iranian journalist. Isobel and her boyfriend manage just fine despite their time-demanding career.
During an interview with The Window, she revealed about the challenges she faced with her boyfriend as the two had to maintain their relationship amidst their heavy schedules.
However, Isobel and her possible future husband are equally in love with each other as they manage enough time for one another.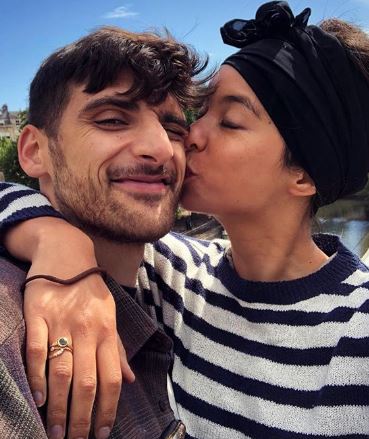 Isobel Yeung kisses her boyfriend, Benjamin Zand on his cheeks on 30 July 2018 (Photo: Isobel Yeung's Instagram)
Isobel does not feel shy to flaunt her romantic pictures with her boyfriend on her social media sites. Her boyfriend feels no hesitance to show his love for his girlfriend to the public. The two seem helplessly in love, and it wouldn't be a surprise if they decided to get married and settle down. 
You Might Also Like: Sheaun McKinney Wiki: Age & Birthday To Wife, Parents Details
Her Bio, Age & Birthday
Born in 1986, Isobel blows out her birthday candles on 2nd of November every year. She was raised in England alongside her brother and sister as per her bio. At the age of 32, the correspondent belongs to mixed ethnicity as her father is originally from China whereas her mother is English. Her father owned a Chinese restaurant in Southern England which was the source of income of her family.
Isobel attended college in her hometown and started to carve the path to her career.