One of the longest-serving TV journalists in Canada, and having a career spanning almost forty years, Gord Martineau finally signed off from his anchoring job on 29 February 2016. He has also won a Lifetime Achievement Awards for his 40 long years in the broadcasting field by RTNDA.
Gord Marineau is a Canadian television journalist, is a happily married man. It has been thirty years since their marriage, but still, they are deeply in love with each other. They have each other's back.
Gord Martineau's Short Bio: Career, Net Worth
The Canadian journalist was born in 1947 and celebrates his birthday on 23 September every year. Currently, he is of 70 years of age.
A Montreal native started his career with City back in 1977 as an anchor of CityPulse. He covered the biggest local stories of the time, from Terry Fox's heroic marathon run to international affairs including Canada's involvement in Afghanistan and the events surrounding former Toronto Mayor Rob Ford.
Gord, who stands at the decent height, worked briefly in CJAD, an AM radio station based in Halifax, Nova Scotia, and in Montreal. Also, he was there with CJCH-TV in Halifax and CFCF-TV in Montreal and then headed to Toronto.
Gord Martineau has also made his appearance as a news anchor in a few movies filmed in Toronto, including Undue Influence, Dirty Work, and Urban Legend. He played a similar role in the 2012 web series Guidestones.
After working for different TV Stations, he finally worked for Citytv, where he joined in 1977 and ended in 2016, and has become one of Toronto's best-loved TV anchors.
During his time at City, Gord Martineau has received many respected awards honoring his work including 2014 Canadian Screen Award for "Best Local Newscast" for CityNews at 6. 
In the year 2012, he was recognized with a Queen Elizabeth II Diamond Jubilee medal. Martineau has also been awarded a Gemini Award for "Canada's Best News Anchor," a Gemini Humanitarian Award, and an RTNDA Canada Lifetime Achievement Award in 2007.
Being working as a television journalist for more than forty years, Gord surely earns a whopping amount of salary from his broadcasting career. However, the exact figure of his net worth remains confined to the media. Talking about the average salary of the journalist in Canada, it is C$41,074 per year.
How Gord Martineau Met His Wife, Sharon?
Gord Martineau is married to his longtime girlfriend, Sharon, who is a now a freelance writer for a tennis magazine, on 27 August 1988, at Trinity United Church in Kirkland Lake, Ont., the same church at which Sharon's parents, Gayle and Ed Havrot were married 63 years ago.  The wedding ceremony was attended by their closest friends and tons of family members.
The couple first met each other in the year 1984 through some of their friends who thought that they would make a lovely couple. The opposite was the case on their first meeting as they could not agree on even one of the conversation topics.
The story began like this on their first date: They are having a conversation about a book, Electric Kool-Aid Acid Test. When it came to finding the author of the book, one said it was Kurt Vonnegut and the other Jack Kerouac.
They had a huge argument, and it turned out both were wrong because Tom Wolfe was the one who wrote it. After that, both Gord and Susan headed towards their respective places with each forming an opinion about the other.  
Gord left their date thinking that Sharon was a know-it-all and similarly, she thought Gord was a jerk. But they both knew there was a spark that was eventually kindled through long-distance phone calls. They were both secretly in love with and finally on 27 August 1988 they got married.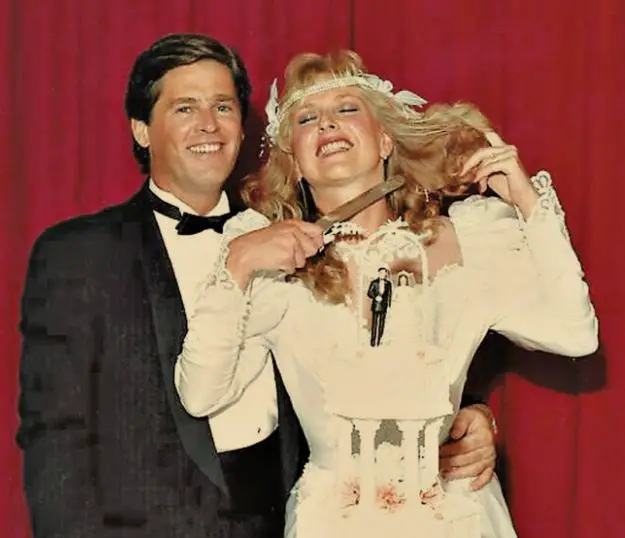 Gord Martineau with his Wife, Susan on their Wedding Day on 27 August 1988. (Photo Credit: Post City Toronto)
Gord Martineau took his wife Susan for a beautiful honeymoon to Maui for a 10-day honeymoon, which the couple still remembers fondly. The couple went on to have two beautiful daughters named Taylor and Julia to make it four in their family, including them.