Glenn Villeneuve is an American TV personality who came to public attention by appearing in the National Geographic Channel's reality documentary show, Life Below Zero since 2013. 
Since his appearance from the beginning, he has accumulated a lot of fans and followers through his harsh struggles shown while living in the forests of Alaska and his skills of hunting, fishing, wood-chopping, and tracking. 
Glenn Villeneuve's Bio: Age 
Glenn Villeneuve was born on 18th March 1969 in Jericho, Vermont, United States. 
Married To Wife & Children
Glenn Villeneuve is currently married to Trisha Kazan. The couple began living together in 2014. The couple welcomed their first child together named Agatha Villeneuve in 2017.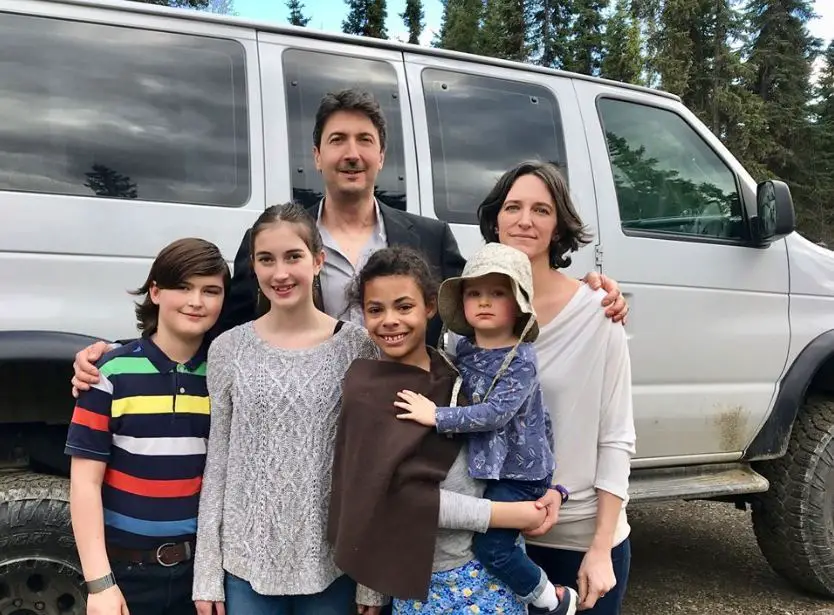 Glenn Villeneuve with his wife and children on 10th May 2019 (Source: Glenn Villeneuve's Facebook) 
However, Glenn and Trisha both have children from their previous marriage. Trisha has a daughter named Amelia Atkins from her previous relationship whereas Glenn has two kids from his previous marriage with Silvia Daeumichen. 
Another TV Personality: Talan Torriero Wiki, Wife, Height, Family
Gleen and Silvia, a German Opera singer were married in 2001. In 2006, the ex-couple welcomed their first child; a daughter named Willow Leaves and in 2009 they welcomed a son named Wolf Song. The got divorced in 2013.
Growing Up
He was fascinated by wildlife from his childhood. As a child, he spent most of his time in the jungles discovering about survival in the jungle. So he got very little formal education. However, he learned to read by himself.
Growing up, he always wanted to spend time in the woods and be a part of it. So he made a decision to move to Alaska and the decision was also supported by his family members. 
So in 1999, he moved from his hometown, Jericho and settled on the extremely remote and icy-cold Chandalar, a region closed to the wolf-filled arctic Alaskan jungle. 
Life Below Zero
Life Below Zero is a documentary reality TV series originally aired by the National Geographic Channel since May 2013. The show documents people living in remote areas of Alaska who live struggling even for basic necessities like water, electricity, and technology. It also shows how the cast members survive in the icy forests, hunting animals for food. 
The show features daring personalities like Sue Aikens, Jessie Holmes, and spouses like Kate and Andry Bassich, Chip and Agnes among many, along with Glenn Villeneuve. 
Meet Another Life Below Zero Personality: Who Is Agnes Hailstone First Husband? Tattoo, Net Worth, Age
Glenn began appearing in the show in 2013. In the show, he can be seen living in the Brooks Range, a region 200 miles away from Fairbanks, Alaska and 60 miles away from the nearest road.
Interesting Facts
Glenn Villeneuve's wife and children live in Fairbanks, Alaska and are visited by him occasionally. 

Once he was chased by a pack of twenty wolves. 

He is very active in social media and can be found posting pictures of her family members and memorable moments on Facebook and other platforms.