The American judge and TV personality Mitchell Gino Brogdon, popularly known as Gino Brogdon, is amongst the successful lawyers in the country. 
As successful as he may be in his professional life, he has had his share of ups and downs when it comes to personal aspects, from being a proud father of 2 lawyer sons and an athlete to a failed marriage with the woman he loved dearly.
Is Judge Gino Brogdon Married?
Judge Brogdon was married to Jann Adams, a Ph.D. degree holder in Psychology from Indiana University Bloomington and the former chair of Morehouse College's Psychology Department.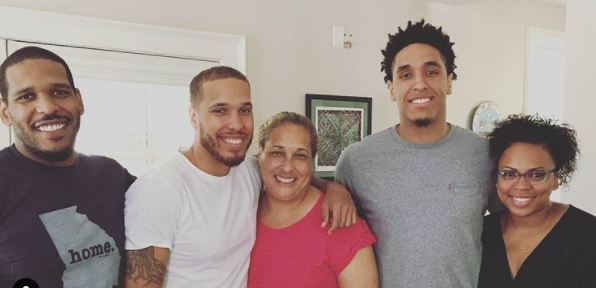 In the picture: Judge Gino Brogdon's family, Jann Adams, Gino Brogdon Jr. and his wife, John Brogdon, and Malcolm Brogdon. (Source: Instagram)
Learn More About - Inside Former FBI Agent Frank Figliuzzi's Personal And Professional Life
Despite their efforts to maintain their love for a lifetime, their relationship took a massive U-turn back in 2003. The couple went through a divorce when their youngest son was at the age of 11 keeping the actual reasons for divorce confined within the family, just like their actual wedding date.
The couple shares three sons Gino Brogdon Jr., John Brogdon, and Malcolm Brogdon, during their relationship, and just like their parents, all three sons excel in their respective careers.
Brogdon's Children
Following the footsteps of their father, Gino Jr. and John both have built a career in law, whereas his youngest son Malcolm is a professional basketball player representing Indiana Pacers. 
Gino Jr. is a graduate of Morehouse College, Harvard Law School, and the University of Georgia School of Law. 
Gino Jr. has been professionally active since 2011 and has served The Cochran Firm Atlanta and Brogdon Champion as an attorney in the past. As of now, he is currently associated with the organizations The Brogdon Firm, Miles Meditation Arbitration, and FourthParty and is a Senior Neutral at Miles Mediation and Arbitration.
Likewise, John is a graduate of Howard University School of Law. He kickstarted his career in 2015 as a law clerk at Fulton Country State Court and later served as a Judicial Law Clerk and Assistant Solicitor.
Currently, he serves as an Associate Attorney at the City of Atlanta, which he started back in 2019. 
Unlike the two older brothers, Malcolm chose to be an athlete, and as a result of his dedication, he is now a prominent NBA basketball player for Indiana Pacers. However, he also prioritized his education and graduated in public policy with a Master's degree. 
Although Malcolm and his brothers had to go through their parents' divorce at a young age, Jann and Brogdon were able to raise their boys right and share a strong bond. Talking about his parent's separation, Malcolm said, 
I have two older brothers and they really helped raise me as well, honestly. We stuck together as a family and, you know, the divorce was tough -- especially at that age, but it was one of the early points of my life where I had to really go through adversity and overcome it.
Juge Brogdon's Career Achievements and Net Worth
Besides imposing a positive impact on his children, judge Brogdon, a graduate of Oberlin College and the Indiana University of Law, has helped several lives through his jurisdiction. 
He has resolved numerous cases fighting for justice, including the disputes concerning ordinary citizens to celebrated public figures.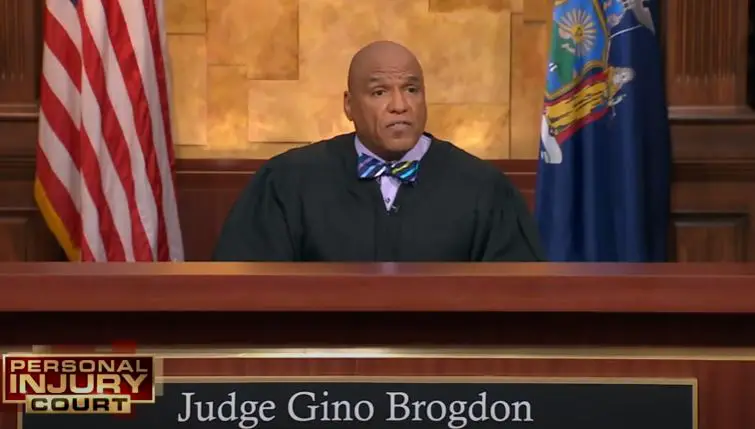 Judge Gino Brogdon resolving a personal injury case in Personal Injury Court. (Source: YouTube)
Learn the net worth of - John Challis: Books, House, Net Worth & Tours In 2020
Despite his outstandingly successful career, the sought-after judge came to significant exposure since his TV debut in 2019 as a host for Personal Injury Court, an American reality court show which aired until February 26, 2020. 
Through the show, Brogdon concluded several personal injury cases. Even after the show's end in 2020, he continued his passion and currently serves at Henning Meditation, handling a limited number of cases. 
Given his brilliance and decades of experience in his field of work, this renowned judge is entitled to bulky net worth, with a reported annual salary of over 60 thousand dollars.