John Challis is an accomplished actor and narrator. His wide-ranging career has seen him performing the classical roles on the stage to heavies in television drama, sitcom stardom, pantomime performance, and even a one-man show.
Some of his works are; Dixon of Dock Green (1969), The Sweeney (1975), Only Fools and Horses (1981-2003), The Bill (1988), My Family, Soldier Soldier (1996), Heartbeat (1998), The Green Green Grass (2005-2009), Last of The Summer Wine (2008), and Benidorm (2015-2018).
Book
John Challis has penned three volumes of autobiography 'Wigmore Abbey: The Treasure of Mortimer,' 'Being Boycie,' and 'Boycie & Beyond.' In April 2012, starting at Waterstones in Uxbridge, he embarked on a book tour to promote Being Boycie.
John Challis' Career
From a young age, John Challis wanted to act, but he was encouraged to get a proper job. For a short time, he worked as a trainee estate agent and a job delivering groceries.
Another Actor: Kevin Grevioux Bio, Age, Married Life, Wife, Net Worth, Books
Soon, he got involved in acting and ended up in the Royal Shakespeare Company in 1960. Five years later, he made his television debut in The Newcomers. Afterward, he performed on several television shows. Some of them are listed below:
Coronation Street (1967-1977)
Dracula, Beau Geste (1974)
Doctor Who (The Seeds of Doom) (1976)
Open All Hours (1976)
Doctor Snuggles, Chance in a Million (1979)
Bloomers, Citizen Smith (1979)
Juliet Bravo (1985)
In Sickness and in Health (1985)
Ever Decreasing Circles (1987)
Don't Wait Up (1988)
The New Statesman (1992)
 Last Of The Summer Wine (2008)
On 19th February 2016, John cast in the role of Captain Peacock in a remake of Are You Being Severed, which aired in 2016 on BBC. He also starred in Benidorm.
House
In 2019, John heard bangs and explosions while he was in the garden of Grade I listed building Wigmore Abbey in Herefordshire. He tried to put the fire out himself, but after the failed attempt, he called 999. Six fire engines arrived with the crew to put out the flame, which broke out in a barn and the other side of the lane.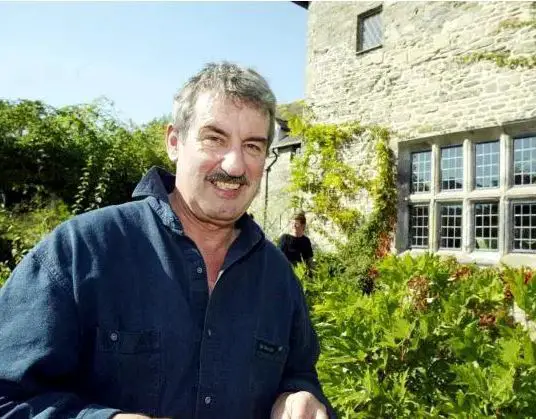 John Challis in front of his house (Photo: thesun.co.uk)
In 1998, John and his wife Carol bought Wigmore Abbey, and ever since, they have restored the £750,000 property that is soaked in history.
Short Bio
John Challis was born on 16th August 1942 in England. He stands at the height of 6 feet  1½ inch (1.87 meters).
At the age of 18, he trained to become a real estate agent. He has been married four times. His fourth marriage being to Carol Challis in 1990.