Fred Hurt, also known as 'Dakota' Fred, is an American television personality. He is a veteran gold miner who came into the limelight through his appearances in the reality TV show's franchise named Gold Rush.
He first appeared in Gold Rush in 2011, which was broadcasted on Discovery Channel. Since then, he has starred in numerous seasons of the show, which includes Gold Rush: South America (2013), Gold Rush: The Dirt (2013-14), Gold Rush: Alaska (2011-2020), and Gold Rush: White Water (2018-20).
Wiki Plus Age
Fred Hurt was born on 10th July 1943 in Minot, North Dakota, the United States.
Fred Hurt's Married Life
Fred Hurt is currently married to Jennifer Sheets. The two heartthrobs shared the wedding vows on 30th July 2016.
An Actress: Mackenzie Davis Bio Uncovers Age, Movies, Gay, Dating Status
Since then, the pair has been together, appearing in Gold Rush's season together and helping out each other.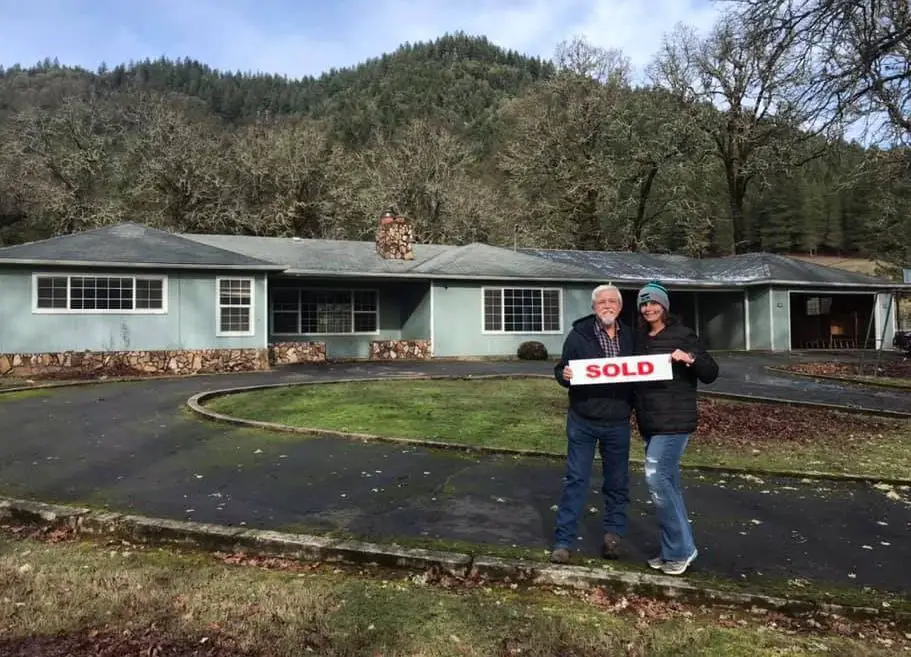 Fred Hurt with his wife, Jennifer Sheets at their new house on 16 January 2020 (Photo: Jennifer Sheets' Facebook)
Before being in a marital bond with Jennifer, Fred was married twice—the identity of his first wife is not disclosed yet, whereas his second marriage was with Lorrayne Frances Leier. Unfortunately, his second wife, Lorrayne, passed away due to her illness on the 2nd of February 2015.
Children, Relationship With Son
From his all marriages, Fred Hurt is blessed with three children, two sons, and a daughter. One of his son's name is Dustin Hurt (from his marriage with Lorrayne), and his daughter's name is Darla Hurt.
The father-son duo of Fred and Dustin have always been working together appearing on numerous seasons of Gold Rush. But, they had some arguments, time and again. And, in the third installment of the Gold Rush, they worked separately, in their own way. Due to that, the audiences thought that they had again argued.
In an interview with PopCulture.com, on 8 November 2019, father Fred stated,
"At first he had his mind set to go one place, and my mind was set to go somewhere else. So we split up. It worked out quite well, we had double the chance to get the gold and got to work more places."
Later, he added another statement saying,
"It doesn't always go smoothly, and Dustin and I have quite the history of being at each other's throats. It was the best decision we could have made ... and it made for a good season."
Nonetheless, now, the father and son pair have sorted out their talks and are again together.
Quick Family Fact
Fred Hurt has a step-daughter named Kayla from his wife, Jennifer's past relationship. His step-daughter shared the married vows with her partner, Paul, in August 2019.
He also has six grandkids, from his children's marriage, and five great-grandkids from his children's, children's marriage.
His Career
Fred Hurt has spent many years of his life in the field of gold mining. At the initiation, he used to work as a commercial diver in the Gulf of Mexico during the 1960s. During that time, he mastered himself in underwater construction, demolition, and salvage. However, in 2004, after spending more than 25 years in his construction company, he chose to retire.
Later, he decided to utilize his skills in the gold mining field and took his first chance in Alaska. But, his start at the gold mining wasn't good. Nonetheless, he continued to extract the gold, this time in Little Squaw Lake, and eventually succeed in obtaining more than 600 ounces of gold.
Have A Look At: Wendy Nguyen Wiki Uncovers Age, Height, Family & Boyfriend Details
Since then, he has never looked back. Also, he has played in other TV show other than Gold Rush, which are 2012's The Long Road (TV Movie documentary), 2015's All That Glitters (TV Series documentary), and 2018's Gold Blooded (Video documentary).
His Net Worth
According to Celebrity Net Worth, the veteran gold miner, Fred Hurt has allocated a healthy net worth of $6 million. Also, his son, Dustin Hurt, a contractor plus a wildland firefighter, has a net worth of $1 million.