Child Is The Father Of The Man.
The paradoxical quote by Williams Wordsworth, perfectly, matches the life scenario of uprising actress, Eris Baker.
Eris, who plays the role of young Tess Pearson in NBC's drama This Is Us, was intrigued by the cameras from an early age. But, she had possibly not expected that her infatuation with the cameras would one day raise her to the stardom, she is witnessing now.
Eris Baker's Wiki-Like-Bio
Eris Baker was born on 4 August 2005, in the United States. She is blessed with a slim and fit body and also has reached a satisfying height of 5 feet 6 inches (1.70 inches) as of now. As for siblings, she is blessed with three younger sisters, Eris, Blue, and Harli.
Eris Baker poses with her parents and siblings 22nd April 2019 (Photo: Eris Baker's Instagram)
The teen kid draws a close relationship with her family. She often provides the glimpse of the people, who hold an integral part in her life - her parents, who were the high school sweethearts, and siblings.
Eris's Journey To This Is Us
Everyone stumbling upon the NBC's Emmy Award-Winning hit, This Is Us probably knows Tess, but do they know how Eris became Tess?
Related: Susan Kelechi Watson Married, Husband, Parents, Height, Bio
Eris ventured out into the acting world through her first gig—a Target commercial. Then, the award-winning 13-year-old kid appeared in K.C. Undercover and in the Comedy Central's TV series Drunk History. Moreover, she left the mark of her incredible charisma in 2018 show, Alexa and Katie, where she was invited as a guest star.
Although the stories of her career might be mundane to hear, the story of her audition for This Is Us is interesting.
She had screwed up her part in the audition round; everything went fine first but, in the ending, she made a total mess. After the test, she even cried a river, as she saw her dream slowly fading away. But luckily she got her entry in the cast of This Is Us, alongside Niles Fitch and proved herself to be the gem of the show.
Eris' character of Tess Pearson has been immensely adored by the audience ever since the initial stage of the show.
Recently, in March 2019, Tess came out as gay to her parents, Randall and Beth. Young Eris' fabulous portrayal of the scene left many viewers full of tears. This scene was one of the most emotional scenes even for the actors themselves.
With this level of acting at this young age, the day when Eris reaches greats in the field doesn't seem much distant.
Eris's Net Worth
The incredible child actor has made all the people wonder through her on-screen performance as Tess. Recognizing her tremendous influence on This Is Us, Saga Awards Committee, bestowed her with the award of Outstanding Performance by an Ensemble in Drama Series on 22 January 2018.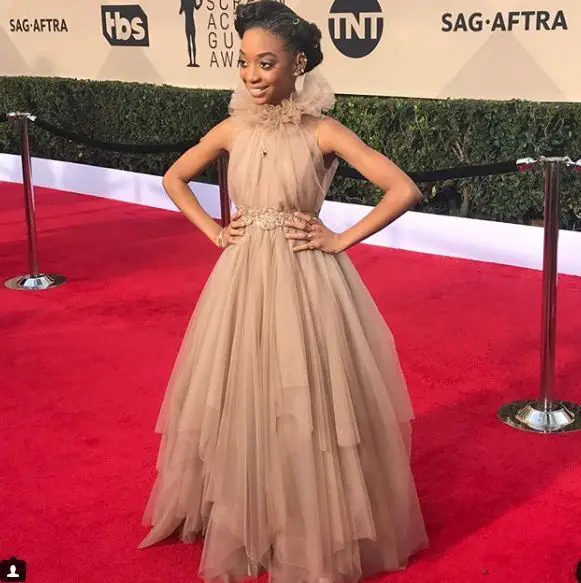 Eris Baker attends the red carpet event of Saga Awards Ceremony on 22 January 2018 (Photo: Eris Baker's Instagram)
Apart from fame and recognition, Eris also she earned a whopping salary of $112,500 from the first season of This Is Us. Coming from the first season to the third season, she successfully garnered more than a quarter of a million as net worth; $298,140 to be precise.