Erin Ryder, usually known after her surname 'Ryder,' is regarded as one of the most versatile and promising personalities in the line of travel and exploration. She soared to fame as the co-host of SYFY's paranormal/reality television series, Destination Truth, National Geographic's Chasing UFO's, and Universal Studios's web series, Myth Explorer.
Today, she is a partner and executive producer at JAMAA Productions, the Greater Los Angeles Area-based company specializing in creating "unforgettable" film, TV, digital, and commercial sports content. She has been in the position since July 2017.
Erin Ryder In "Destination Truth"
A born adventurer, Erin Ryder became the part of the Destination Truth team continuously from season two to season five.
More Of 'Destination Truth' Stars: Josh Gates Married & Has Baby With Wife, Net Worth, Age & Bio
Besides working as a co-executive producer, audiences saw her performing as a researcher and field investigator as well. Over the course, she traveled over forty countries aiming for bigger and challenging adventures with each completion.
Erin Ryder's Wiki (Bio): Age, Family
Erin Ryder was born on 14 August 1980 in New York, the US. She wrote on her Instagram that she comes from an extra-large family referring to her family members, Caitlin Ryder, Chris Ryder, Gail Ryder, and Courtney Ryder, amongst others. The caption to a family photo read:
Family comes in many shapes and sizes, mine just happens to come in an extra large. There may be miles between us, but when we're apart I carry them in my heart, and in my mind. I may not have celebrated Thanksgiving with this Motley Crue but I am beyond thankful for them.
Her father, a professor of Archeology, and her mother have been married since 23 June 1979.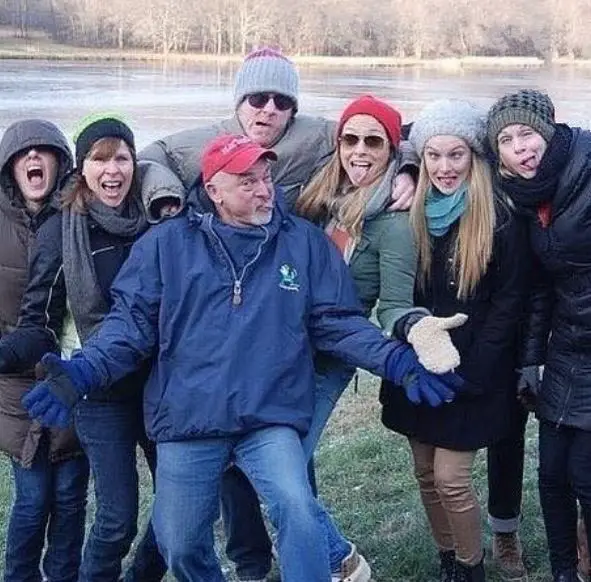 Erin Ryder with her family on 27 November 2018 (Photo: Erin Ryder's Instagram)
Lately, Erin lives in Los Angeles, enjoying the outdoors, taking photos, and planning her next big adventure.
Dating Info.
Erin Ryder and Josh Gates co-executive producer of Destination Truth was suspected to be dating. Later, Erin clarified the rumors via Twitter on 11 April 2019 saying that Josh is married to a beautiful mummy of two.
More Facts On Erin Ryder
She holds a Master's degree in Television, Radio, and Film from Syracuse University's Newhouse School.

Also, she graduated Magna Cum Laude in Communications, Computer Applications from State University of New York College at Cortland. While there, from 1998 to 2001, she was a field hockey national champion.

As a producer, she also worked on dozens of shows, including the 2004 Olympics in Athens, Greece, the 32nd Annual Daytime Emmys, and the Summer and Winter X Games.

She worked with ABC, NBC, CBS, Discovery Channel, VH1, ESPN, MTV, Cartoon Network, and The CW.

Erin began her career in sports as an NBC Olympics Division's production assistant.

She is a member of Hollywood Radio and Television Society, Producers Guild of America, Alliance for Women in Media and The American Film Institute.

Her birth sign is Leo.

She stands at the height of 5 feet and 8½ inches (1.74 meters).