Weather broadcaster Erica Collura is well-recognized as the weekend meteorologist at WHIO in Dayton. Erica, whose name sings for itself in WHIO, considers viewers a top priority and helps them to plan their days.
Apart from her professional life, many of you might be familiar with the fact that Erica is a married woman. Well, she is in her cloud nine now, as the reporter is expecting a baby with her husband.
Ecstatic Married Life With Husband 
The beautiful metrologist Erica Collura is a happily married woman. But regarding her personal life, she has been taciturn while opening up about her husband.
Nevertheless, Erica got engaged with her partner on 4 March 2014. After dating for a year, they exchanged their wedding vows on 12 September 2015.
Though Erica has been secretive regarding her love life, she often tweets about her husband. She once mentioned her husband in the comment while answering one of the tweets.
After three years of their married life, the couple has planned to expand their family.
Back on 9 March 2018, the news of pregnancy got to know from one of her friend's tweet in which she captioned Erica has announced her pregnancy news on her channel Local 12.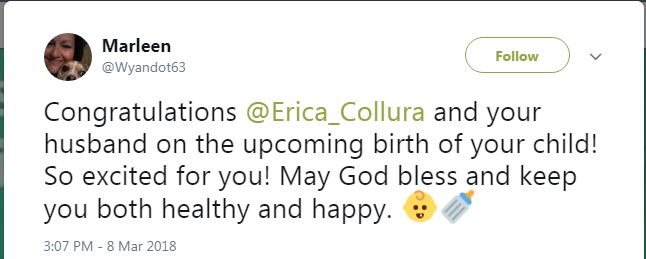 Marleen Congratulates Erica on the upcoming birth of her child via Twitter on 8 March 2018 (Photo: Twitter)
The same day Erica received another tweet from her friend congratulating her on the upcoming birth of her child.
Erica Collura 's Bio, Career
A Pennsylvania native Erica Collura celebrates her birthday on 28 November every year. As her birth year is still under the curtain, her exact age is yet to be known.
Regarding her education, after her schooling, Erica applied for a Bachelor's degree in Meteorology at Pennsylvania State University majoring in the subject of forecasting and broadcasting. 
Talking about her profession, Erica was interested in broadcasting the weather news from her early age. After taking her first weather class in ninth grade, she was hooked. Then onwards her interest towards broadcasting was raised.
Well, while Erica was in her college days, she signed up with the Campus Weather Service, which is North-America's largest, student-run-organization. She was also connected with PNS-TV. She captured pictures, produced and edited her packages related to weekly events occurring on the college campus.
Erica first became weather forecaster while she was at her college days. She worked on the C-Net, local channel at State College, Pennsylvania.
Later in October 2013, she joined the Local 12 Weather Authority, making it the largest weather team in the Tri-State area. After that, Erica came to Cincinnati from WHIO where she worked for platforms like digital, newspaper, and radio for more than three years.
 Erica still hosts two shows KRC at 4 PM, while the other is on STAR 64 at 10 PM.