Donna Terell is an award-winning anchor who works for Fox16 News. She has been working for Fox 16 News since February 2004.
Before joining the Fox16 team, Donna worked at WKYC-TV in Cleveland, Ohio and also worked as an anchor and reporter in South Bend, Indiana and Battle Creek, Michigan. Later, she began her work at WKBD-TV and WWJ-TV in Little Rock from Detroit. 
Throughout her broadcast career, Donna received many honorable awards. But her achievements do not stop just at awards, as she even proves to be an amazing mother.
Furthermore, Donna probably managed to accumulate a significant amount of net worth through her hard work. As for her earnings, the average salary of FOX 16 employees is estimated at around $56K. 
Donna Terrell Wiki-Like Bio, Daughter 
Donna Terrell celebrates her birthday on 20 February every year. 
As for her education, Donna graduated with a Bachelors of Applied Arts Degree in Broadcast and Cinematic Arts from Central Michigan University. 
Talking about her family, Donna was born to her parents, Rollo and Bessie Terrell. When she was in 10th grade, Donna got pregnant with the child of Ivan Habern. She went to her mother, crying, but after clearing her mind, she decided to give birth to her beautiful daughter, Queah Tecarr Habern.
Also Learn About: WJLA Michelle Marsh Bio, Age, Husband
Donna's parents helped to take care of Queah when she was in high school and through freshman year in college. And sometimes, Donna took her daughter to her classes when she had no other choice. But, she made things work and completed her college with a degree.
However, her motherhood was tested when Queah was diagnosed with colon cancer at the age of 27.
But Queah probably got the "never give up" personality from her mother, as the news of cancer didn't stop Queah's adventurous nature and passion for traveling. She traveled to 13 countries and was planning to visit more.
But before she could visit more places, Queah lost her battle with colon cancer and passed away at the age of 34.
Donna was a caregiver for the last two years of her daughter's life. And she felt thankful to the Gods for getting to be a mother to a wonderful daughter.
Donna Terrell Married To Husband
On 11 March 2019, Donna announced that she got engaged. She even threw an engagement party, where she proudly showed off her beautiful engagement ring.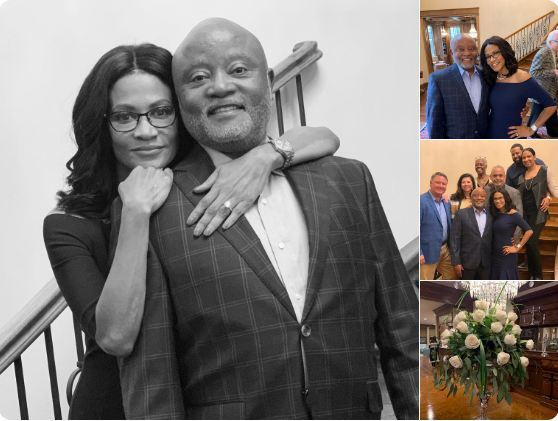 Donna Terell gets engaged and shows off her engagement ring on 11 March 2019 (Photo: Donna Terell's Twitter)
Although Donna is not shy or uncomfortable to let the world know about her future husband, she hasn't revealed many details about him. However, it seems like the couple is enjoying their dating life traveling to places and living their moments together. 
Another Fox News Reporter: Fox News Amanda Salas Bio, Husband, Family
They have yet to confirm anything about when they plan to get married and take their wedding vows. For now, fans can only hope that the wonderful couple ties the knot soon enough.