Setting a grand persona of yourself while your life as an adult has just begun, not a child's play.
Moreover, when your fame is not based on any entertainment or showbiz credit in that age, it's worth making considerable value.
Delaney Tarr, a girl just in her late teens, has named herself in the list of best activists against gun-shots. Besides her popularity as an anti-gun activist, Delaney has also been famous for being a gay rights supporter.
For Delaney, there has been enough support not just physically but also in social media. She has more than 54K followers on her Instagram account.
No doubt, Delaney will be able to achieve the height of greats in every role she appears in as an activist.
Delaney Tarr's College Life
Being a student of Marjory Stoneman Douglas High School, Delaney became a part of the suffered group of students from the mass shootings.
Seeing many of her friends' life end in the firing, Delaney chose the path of social activism. She stood firm to fight against each of the similar kinds of incidents.
Don't Miss: Danny Seo Bio, Wife, Gay, Family Background
Thus, Delaney's college life has been an influencing journey as a whole. Like most of the youngsters, even Delaney's young blood might seek the life full of glam, travel, and exploration.
However, she has chosen the path where she makes it possible for many to live their dream life.
Along with Delaney, there are other of her mates who have also been a part of this fight. There are few of the ones, Delaney has been associated with even in her personal life.
There were reports of Delaney being in a relationship with Lewis Mizen, also a survivor of the shoot.
However, all those rumors were later dismissed with the arrival of the other fresh rumors regarding her relationship.
The latter rumors suggest that Delaney is in a relationship with Alfonso Calderon.
The story stands based on Delaney's prom night with Alfonso. However, going prom with him doesn't confirm their relationship, as both of them have not spoken on the matter.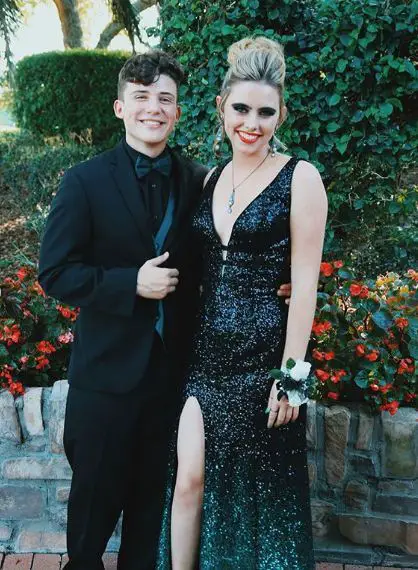 Delaney Tarr poses with her rumored boyfriend, Alfonso Calderon on 6th May 2018 (Photo: Delaney Tarr's Instagram)
Hence, Delaney's fans are hopeful that, by the end of her college life, she reveals to them about her relationship. 
Bio- Age, Parents
Born in the year 2000, the famous American activist, Delaney Tarr, celebrates her birthday on 18th July every year. She is a 19-year-old young activist who has already made it huge with her hard work and struggle.
See Also: Nomiki Konst Husband, Parents, Net Worth
This dedicated lady, Delaney, is the daughter of Brian Tarr and his wife, Jennifer Napier-Tarr. She also has a sister, who is about five years younger than her.
Delaney is very close to all her family members, including her parents and sister. It seems like Delaney's parents have always been supportive of their daughter's choices in life.
"Young and active for social and political progress," not everyone can fully engage in, without family support.
Supposedly, Delaney continues to contribute with her immensely youthful energy. No doubt, Delaney becomes able to change lives, and make them live longer, in the coming days.