American journalist Dan Harris is widely-known as a correspondent for ABC News. Harris has been continuously serving as an anchor for Nightline and co-anchor for the weekend edition of Good Morning America.
During his 18-years-and-running career at ABC, Harris has enticed most of the global TV viewers with his astonishing analytical and reporting skills. Moreover, Dan has grabbed multiple awards in his career which showcases his surreal journalism skills. His charismatic personality and striking ability in front of the cameras encourages the global fans and followers to have a detailed insight into Harris' off-screen whereabouts. 
Dan Harris' Blissful Married Life, Plus Terrific Bond With Son!
Sorry Ladies! The handsome and prominent reporter is a happily married man. Dan Harris is in a happy relationship with his beautiful wife, Bianca Harris. Bianca is a pulmonologist in New York, serving as one of the 12 doctors at Memorial Sloan-Kettering Cancer Center who has the medical specialty in dealing with diseases involving the respiratory tract.
Dan and Bianca are enjoying a compelling bond since walking down the aisle together on 30 May 2009. The couple shared their marriage vows in New York in front of close friends and family.
The sizzling pair welcomed their first son, Alexander Robert Harris on 15 December 2014. Dan shared the happiness of his first child on his Facebook post the day after he was conceived.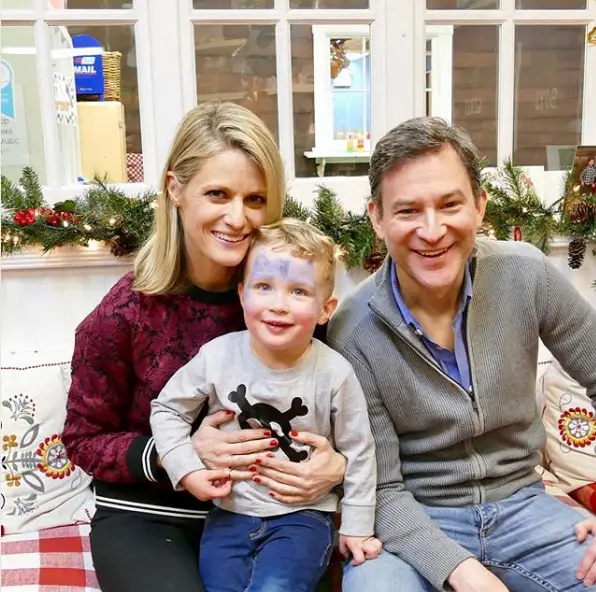 Dan Harris with wife Bianca Harris on their son's 3rd birthday (Photo: Dan Harris' Instagram)
Furthermore, back on 16 December 2017, Harris Instagrammed the picture of his son and wished him on his third birthday labeling him as a "little Batman."
Dan and Bianca have successfully carried their healthy married life for over eight years. More importantly, the couple frequently flaunts an immense love for one another on social media posts. 
Dan Harris' Bio: Family, Career, Net Worth
American native Dan Harris was born on 26 July 1971, in Newton, Massachusetts, to parents, Jay R. Harris (father) and Nancy Lee Harris (mother). He grew up with his younger brother, Matthew Carmichael Harris, who is a venture capitalist. Harris identifies himself as a Buddhist and also refers to half-Jewish and culturally Jewish.
Dan's father is the chairman of Harvard's radiation oncology residency program. Meanwhile, his mother is a pathologist at Massachusetts General Hospital in Boston.
After graduating from Colby College in Waterville, Marine, in 1993, Harris initiated his journalism career as an anchor for WLBZ in Bangor, Maine. Dan's media career hit its full gear when he joined ABC News in 2000. He served as an anchor on World News Sunday from 2006 to 2011.
In October 2010, Dan was named as the new co-anchor for the weekend edition of Good Morning America. Furthermore, he got promoted as a co-anchor of Nightline in October 2013.
During his 18-year career as an ABC correspondent, Harris has bagged an Emmy Award for his Nightline report, "How to Buy a Child in Ten Hours," in 2009. Besides, his riveting salary averaging around $106k flaunts his compelling net worth at the network.