Dan Balz has been an American political correspondent and journalist at The Washington Post since 1978. He has been involved in the paper's political coverage as a reporter, and national editor. He has also served as a political editor and a White House Correspondent.
Dan Balz Wife & Family
Dan keeps his personal life under the covers, but it is known that now of age 72, Dan has a family of three. Every day after work, he comes home to his lovely wife, Nancy Johnson Balz and his son, John Balz. 
Discover: Carl Quintanilla Married, Divorce, Wife, Children, Ethnicity, Net Worth, Bio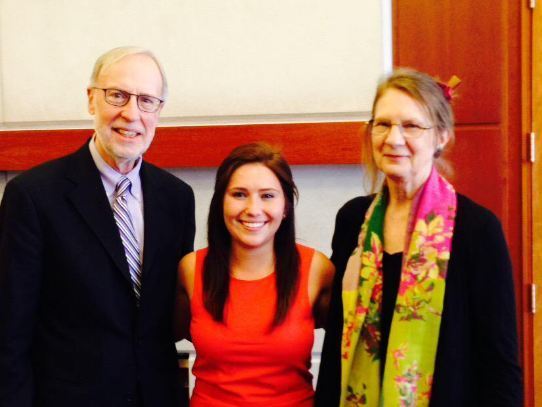 Dan Balz and his wife Nancy Balz take a photo with a CNBC's Angelica LaVito (middle) on 11 April 2015 (Photo: Angelica LaVito's Twitter) 
Even though details on Dan's wife and children aren't much known, people wish them a beautiful life ahead. 
Washington Post / Salary
Dan's career didn't pick it up by itself. He had to work hard for reaching the peak of success and professionalism today as a journalist. Dan first worked at Freeport Journal Standard, before entering military service where he covered the 1968 Democratic National Convention and contemporaneous riots. He worked as a deputy editor and reporter for National Journal. Before coming to The Washing Post, Dan also worked at the Philadelphia Inquirer as a reporter.
Know About: Washington Post's David Fahrenthold Bio: Wife, Family, Salary
After joining the Washinton Post, Dan has managed to cover topics from the U.S government to the US President, Donald Trump. Dan has reported on ten presidential campaigns as of now. His writing and reporting make him one of the most influential Chief Correspondents in the States. He is also a regular panelist for PBS' Washington Week, a frequent guest on Sunday news shows
Besides his work in the journalism field, Dan is also the co-author of the 1996 book, Storming the Gates along with Ronald Brownstein of The Los Angeles Times. Dan received the American Political Science Association Award for the political coverage of this book. In 2009, Dan co-wrote The Battle of America 2008: The Story of an Extraordinary Election along with Haynes Johnson, which was based on their two years reporting on exclusive interviews with the then-candidates Barack Obama, John McCain, and their top advisers during the campaign.
Dan is also the recipient of many awards like John Chancellor Award for Excellence in Journalism in 2017, Robin Toner Prize for Excellence in Political Reporting in 2015, White House Correspondents Association's Merriman Smith Award for deadline writing 2011, National Press Club's Lee Walczak Award for Political Analysis 2011, and Gerald R. Ford Award for Coverage of the Presidency in 2002.
As a national reporter at the Washington Post, Dan earns an average salary of $86K.
Dan Balz Biography, Age
Born on 5 May 1946, Dan was raised in Freeport, Illinois. He attended the Freeport High School and graduated in 1964 as per his biography. Dan, who loved writing since Dan was at a young age decided to enter the field of journalism, which led him to join The University of Illinois. He graduated with a Bachelor's degree in Communications in 1968.
Peek Inside: Fox News Kathleen Bade Bio & Age; Is She Married?
Dan served in the U.S Military from 1968-1971 after his graduation. Following his return from the Military service, the journalist studied for his Master's degree and finally completed his education in 1972.